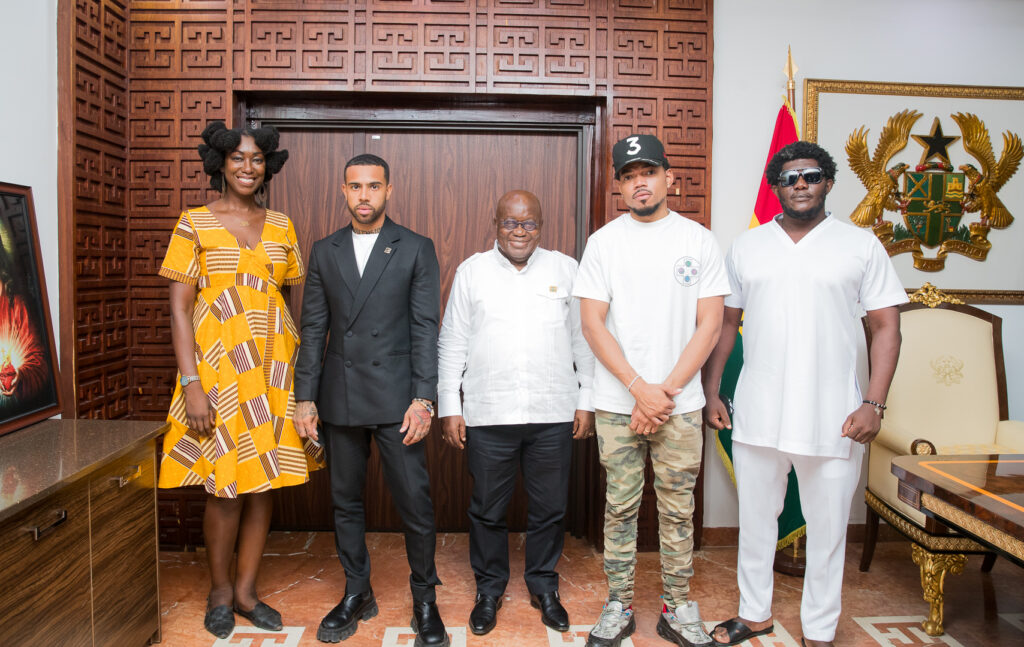 "I wish I was in Accra,' is what American Hip-hop artist Chance the Rapper tweeted in late December. His tweet went viral and within a few days of publicly declaring that wish, he landed in Ghana. The artist spent five days with his friend, Vic Mensa, a Ghanaian-American rap artist who had already travelled to Ghana in December. His time spent in Ghana has been an amazing experience for him and he says he has plans to return later this year.
On his last day in Ghana, the artists paid a visit to meet with President Nana Akuffo Addo at Jubilee House. In the meeting the pair shared their interest in launching a project that would connect artists in the U.S. with artists in Ghana. It would provide a platform to collaborate and amplify the work of talented artists in Ghana and the rest of the African continent. Upon arrival, Chance the Rapper and Vice Mensa made their first stop at an art gallery that features a collective of artists so their commitment to supporting creatives is genuine.
During the meeting, Chance recounted a story of how his family built a school in Jamestown as well as a church near Nungua and he made it a point to go visit the congregation on Sunday. There he met Bishop Nkansah, who he said knew his great grandmother. He truly felt at home knowing he had historical connections with Ghana. He also mentioned that his great grandfather was a Pan Africanist and a captain under Marcus Garvey's Black Star Shipping lines.
Vic Mena, whose father is from Koforidua, Eastern Region, spoke of how he's been visiting Ghana since he was 11 years old and has continued to visit and stays true to his roots in the community where his family still resides. He spoke of the contrast spending time in his father's hometown versus the vibrant city and nightlife of Accra. His passion to create and stay connected to his roots in Ghana was evident and he has plans to continue doing more over the years when it comes to working with the creative community.
Chance the Rapper says the trip was an amazing experience and he will definitely return to Ghana later this year.