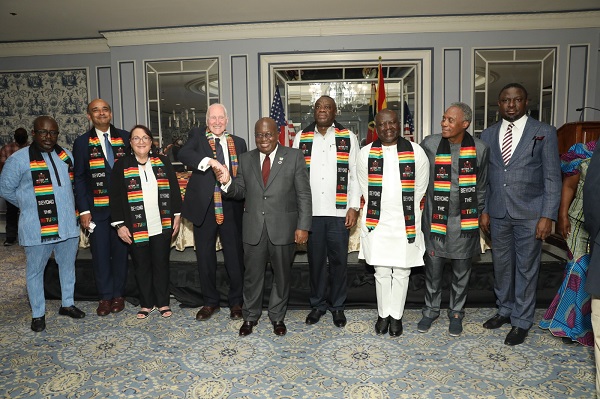 The President of Ghana, Nana Addo Dankwa Akufo-Addo, signed a historic partnership between the New York-based W.E.B. DuBois Foundation and the Ghanaian government to transform the current W.E.B. Dubois Centre into a modern state of the art museum and complex that would attract visitors and scholars from around the world. The agreement was signed in New York City on Monday September 20th, 2021 and gives the foundation permission to break ground and start building the new multi-million dollar facility.
The new museum will be designed by renowned Ghanaian architect, Sir David Adjaye, who also designed the Smithsonian Museum of African American History and Culture located in Washington, D.C. It will feature a museum, outdoor auditorium and amphitheatre, library, reading room and a guest house for scholars visiting Ghana.
Just before signing, President Akufo-Addo made remarks including encouraging the African diaspora to make Africa their home and contribute to developing the continent making reference to the 'Year of Return' and 'Beyond the Return' initiatives in Ghana that continue to inspire the diaspora to make Africa home. "The museum will provide Ghana yet another important monument to the collective struggle of the African peoples to get their rightful place in this world," he said.
The current W.E.B. DuBois Memorial Centre in Accra is where the celebrated civil rights and pan-African leader is buried along with his wife Shirley Graham Dubois. DuBois, who was a great inspiration to Ghana's first president, Kwame Nkrumah, became a citizen of Ghana and lived there until he died in 1963. The new plans to transform the memorial centre is a big welcome in order to revive it as a place that represents the vision and spirit of Du Bois. Once completed, it will serve as a historic site that will give visitors the opportunity to honour his legacy while connecting to their ancestral roots and embracing the culture and heritage of Ghana.
Executive Director of the W.E.B DuBois Museum Foundation, Japhet Aryiku, is a Ghanaian-American who says she's been inspired by the writings of DuBois since she was a youth. "The Du Bois Museum Complex will usher in a renewed commitment to building an international treasure and historic memorial honouring the legacy of Dr. Du Bois, and fostering unity among the African Diaspora through a vibrant cultural and research center," she said.
By: Ivy Prosper