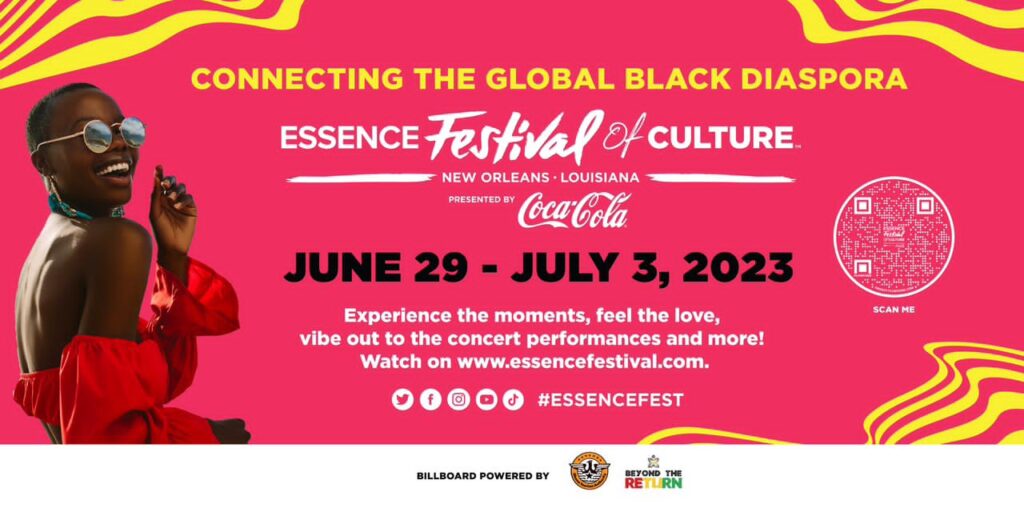 FOR IMMEDIATE RELEASE  – June 29, 2023 – Spotlight on Ghana at Essence Festival of Culture 
New Orleans, LA – The Essence Festival of Culture™, an annual celebration of Black culture that is marking its 29th year this week, is showcasing Ghana's creative industry. The festival is taking place from June 29th – July 3, 2023 in New Orleans, Louisiana. This iconic event has become an international gathering that empowers communities within the global Black diaspora. This year's festival will feature a special spotlight on Africa and its thriving tourism and creative industries. In 2019, during Ghana's Year of Return, the Ghana Tourism Authority and the Year of Return Secretariat started the building blocks of forging a relationship meant to foster growth with Essence. During that year the first Essence Global Black Economic Forum (GBEF) Africa was launched. Actor Boris Kodjoe, Marketing Executive, Bozoma Saint John, CEO of Essence, Caroline Wanga, and Radio Personality, Ebro Darden were among those in attendance at the event that year. In 2022, the CEO of GTA, Akwasi Agyeman, was a featured speaker at the GBEF in New Orleans.
This year's Essence Film Festival will also play a significant role in highlighting the cinematic achievements and diverse talent from the African continent.
Ghana Day will be on July 2nd with activations that include panel discussions, film screenings and more. It will be a day for networking and building creative partnerships. One of the panel discussions titled 'Destination Ghana: Travel, Tourism & Film' will feature Director of the Beyond the Return Secretariat, Annabelle McKenzie. This panel aims to showcase the impact of tourism in Ghana over the past few years and explore how the country can leverage its growing tourism industry to position itself as an attractive film location destination. "I'm looking forward to being on such an international platform to share how Ghana has become a global leader in tourism through our Year of Return and Beyond the Return initiatives that have attracted the diaspora community over the last few years," said Ms. McKenzie. "The first Essence Global Black Economic Forum: Africa actually took place in Accra, Ghana in December 2019 as part of the Year of Return activities. I'm looking forward to this year's forum." she said.
Dr. Nadia Adongo Fynn, Deputy Director of Diaspora Affairs, Office of the President, will also be a speaker on the theme 'Bridging the Gap: Cape Coast, New Orleans & Beyond.' Dr. Fynn is excited to be part of this event, recognizing the significant connections the diaspora has fostered with Ghana. Other Ghanaians who will participate include Actress Juliet Ibrahim, Actor Chris Attoh, Film Producer, Esi Yamoah, Actress Sonya Ibrahim, and the CEO of iFactoryLive, Michael Djaba.
The Essence Film festival will have an emphasis on African cinema with representation from Ghana, Nigeria, Kenya and South Africa. The Ghanaian film, 'Moon Over Aburi', written by Emmy Award-winning writer Kwame Dawes and directed by Sheila Nortley and produced by Anniwaa Buachie, will be screened as part of the festival. The Ghanaian short film, 'Room 5' by Francis Y. Brown will also be screened at the festival.
"The Essence Festival of Culture™ has been an international and joyful gathering that empowers community throughout the global Black diaspora," said Hakeem Holmes, Vice President of Essence Festival of Culture™. As Ghana and other African countries prepare to participate in such an important event in the black community this serves as an opportunity to bridge our cultures across continents and build our connections between the diaspora and the African continent. Billboards for the event can be spotted in Accra, Ghana, solidifying the strong relationship between Ghana Tourism Authority, the Beyond the Return Secretariat and Essence.
Having a delegation from Ghana this year solidifies the ongoing relationship the country is building with Essence. The festival is an opportunity to celebrate Ghanaian culture while promoting potential for economic growth and exchange between Ghana and the African American community.
Tune in to all the action at the festival virtually by visiting the website www.essence.com. For information on the Beyond the Return initiative visit the website at www.beyondthereturngh.com