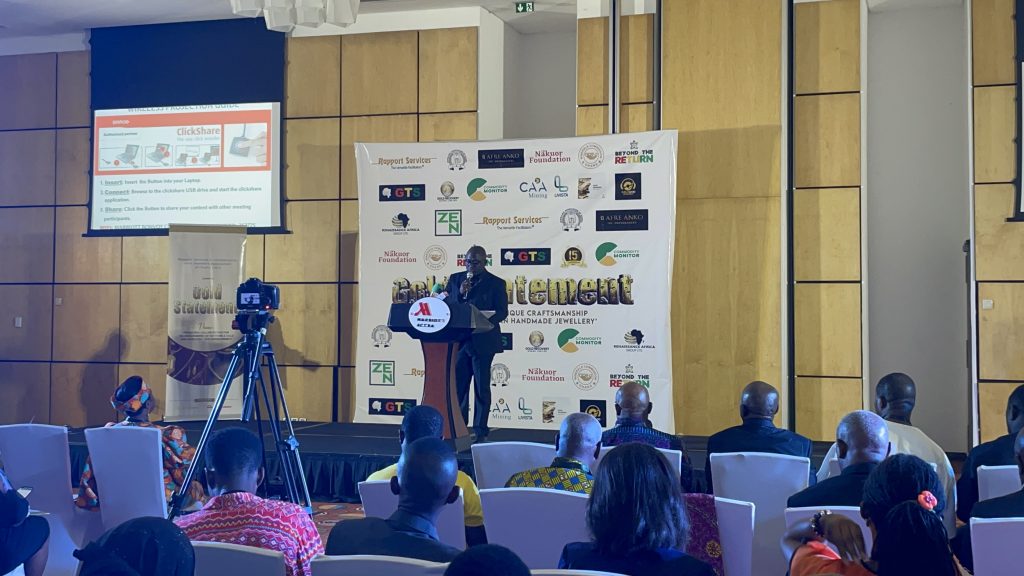 Gold Statement is an annual exhibition, conference and jewellery show that brings all stakeholders together, including policymakers to deliberate on the promotion of value addition to Ghana's sustainably mined precious minerals and also to showcase the craftsmanship of Ghanaian jewellers and goldsmiths. The event officially opened on 24th November and closes with a Gala Night on 26th November at the Accra Marriott Hotel.
Ghana is currently the leading producer of gold in Africa, with the country's gold production amounting to a total of 117.6 tons in 2021, and contributes to 90% to the mining sector. Hon. S.J. Nii Adjei Tawiah, Municipal Chief Exective, Korle Klottey Municipal Assembly spoke about creating a Jewellery Emporium in Accra and making Accra the center of jewellery production to promote tourism and increase revenue in the country at large. He also said a greater portion of Ghana's gold should be refined here in Ghana to increase Ghana's revenue and tourism.
Professor Richard Amankwah, Vice Chancellor, University of Mines and Technology(UMAT) spoke about training for and promotion of made in Ghana jewellery. He added that UMAT believes in responsible mining and they have teamed up with Ghana National Association Of Small Scale Miners (GHNASSM) and Small Scale Miners (SSM) to promote mining.
Speaking at the launch, Head of Material Science Department, Ghana Standard Authority, Genevieve Baah Mante said Hallmarking is a must for Ghana's growing jewellery sector.Gold Statement is supported by the Ghana Tourism Authority under its 'Beyond The Return' initiative and plans to continue with this annual event to continue encouraging growth in the gold and mining industry.
Story by: Agbemenu Kekeli Shine