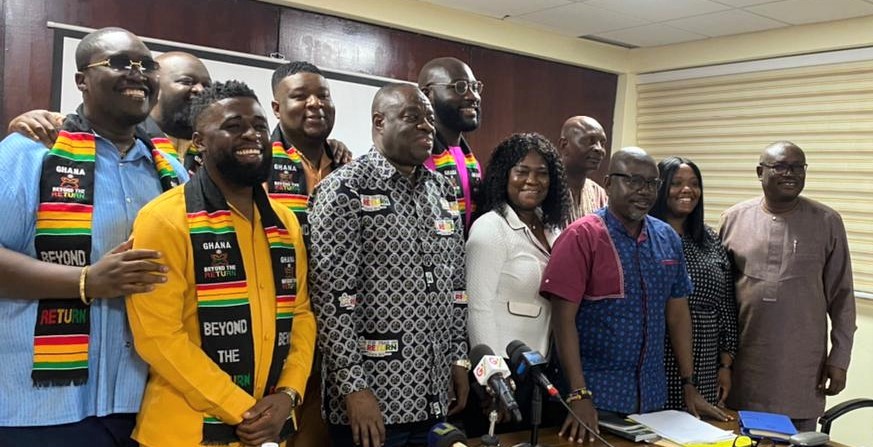 The Ghana Tourism Authority, under the auspices of the Ministry of Tourism, Arts, and Culture, has joined forces with one of the biggest cultural brands to come out of Ghana; Afrochella. Yesterday, the team behind Afrochella signed a Memorandum of Understanding (MoU), with Ghana Tourism Authority to continue promoting Ghana to the world through collaborative efforts that will encourage travellers to choose Ghana as their preferred holiday destination.
Afrochella has been a major event contributing to the growth of Ghana's tourism industry and a changemaker when it comes to changing the narrative of Africa. The festival highlights the culture of Africa through music, art, fashion, food, dance and installations that promote all things Africa.
The Minister of Tourism, Arts, and Culture, Dr. Mohammed Ibrahim Awal, said this partnership would not only serve to promote the fun and leisure activities and experiences, but also encourage opportunities for trade and investment in Ghana. "Since the inception of the Afrochella festival six years ago, you have demonstrated a lot and we know that you can achieve this target," the minister said in reference to the team helping support the tourism ministry's goal of 2 million tourists coming to Ghana annually. "Our current image alone makes people want to come into the country, so support us with your network to bring in these people to have fun, leisure, do business and invest." The minister pledged to give the team the needed support to help achieve the targets.
Abdul Karim Abdulla, one of the co-founders of Afrochella expressed his appreciation for the support of the tourism ministry and Ghana Tourism Authority in their vision. "In 2019 we saw about 16, 500 people [attending Afrochella]," Abdulla said. He announced that this year the festival would be two days and have the goal of attracting 20, 000 attendees this time. "We have a series of events not only to get people to come back to Ghana, but to also invest themselves in Ghana, in the people of Ghana and in the community as well," he told Minister Awal and CEO of Ghana Tourism Authority, Akwasi Agyeman. The other members of the Afrochella team include Ken Agyapong Jr., Edward Asafu Adjaye Kobina, Alvin Bekoe and Vernell Akyeampong.
After the official signing of the MoU, the team were inaugurated as official Goodwill Tourism Ambassadors for Ghana and decorated with the Beyond the Return official Kente sash by the minister. Everyone is looking forward to the positive impact that will come from this partnership in the coming years.
By: Ivy Prosper