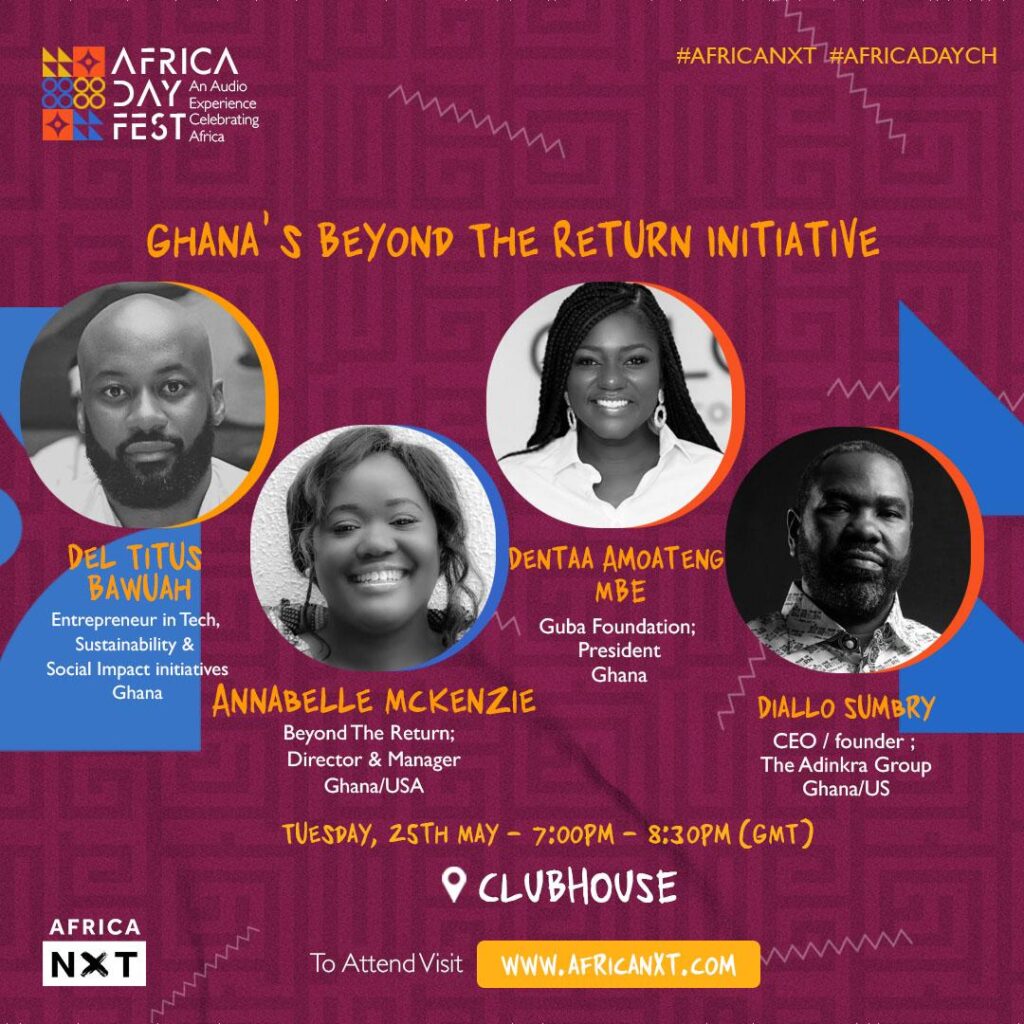 Beyond the Return is excited to participate in Africa Day Fest, an audio experience on Clubhouse by AfricaNxt that celebrates the continent of Africa. This event will be on Africa Day, May 25, 2021. There will be several topics of conversation as part of the festival including African Women in Technology 2021, The Nigerian Dream Abroad, African Fashion, Shifting Culture and so much more.
'Ghana's Beyond the Return Initiative' will take place from 7pm – 8:30pm GMT (3pm – 4:30pm EDT) on that day. Panelists in the conversation are Annabelle McKenzie, Beyond the Return Director & Manager, Del Titus Bawuah, Entrepreneur in Tech, Sustainability & Social Impact Initiatives, Dentaa Amoateng MBE, President GUBA Foundation and Diallo Sumbry, CEO/Founder The Adinkra Group and First African American Tourism Ambassador to Ghana.
Africa Day is the perfect time to engage in this and other important conversations that are important to both continental Africans and those in the diaspora communities. Africa Day is a special day for the continent as we celebrate freedom and independence. The holiday commemorates the launch of the Organization of African Unity on May 25, 1963. Today it's officially known as the African Union.
As part of the annual celebration, African countries have events that recognize the continent's thought leaders, activists, creatives and innovators who continue to be the force that shifts the narrative of Africa.
Ghana's Beyond the Return is a 'Decade of African Renaissance' and it's a 10-year project that is a follow up to the success of the 'Year of Return' campaign in 2019. With so much interest in the campaign, this conversation on Clubhouse will cover some of the questions many in the diaspora have of how they can also be a part of this campaign in helping to make a difference in Ghana and Africa overall.
Visit www.africanxt.com for more info on how to join on Clubhouse .