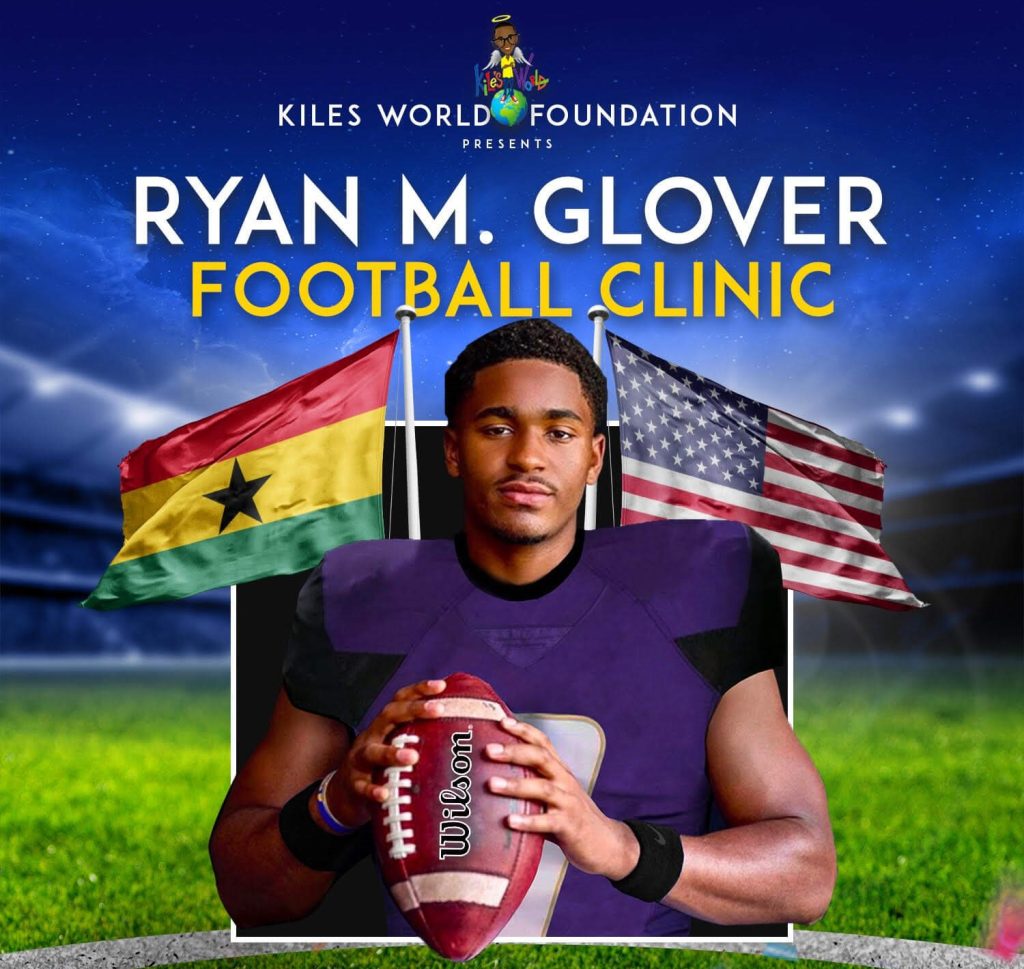 Kiles World Foundation presents its second annual American football camp in Ghana this weekend. Ryan M. Glover and his mother Tameka Foster Raymond arrived in Accra this week ahead of the camp, which is on Saturday 21st May from 10am-3pm at the Adjiringanor Wembley Football Park (opposite Pot Belly Shack) in East Legon. Their mission is to focus on sustainable development and secure a future of African youth through sports. It's an exciting time as Ghana continues to be a hotspot for raw talent in sports.
"Kiles World Foundation is excited to be back in Ghana for our second annual football camp. We absolutely love it here, it feels like home," said Ms. Raymond, who is best known for her work as a celebrity fashion stylist and designer." She founded Kile's World Foundation in honour of her son, Kile, who lost his life in a tragic jet ski accident in 2012. Kile's World Foundation celebrates young people who transform their thoughts into action and influence others to do the same.
"We decided to come to Ghana last year essentially as a graduation present for my son Ryan. We specifically chose a West African country, because that is where our familial roots began," Ms. Raymond said. They hope to provide a special experience for all who participate this weekend because football is known for bringing people together, teaching the value of teamwork and discipline. "We aim to give the youth a different experience from their normal day to day routine."
It's wonderful to see young players like Glover working to support the growth of American football in Africa. Last year, Kile's World Foundation was successful in Accra and they look forward to what the camp has in store tomorrow. They hope that through sports they can help youth to sustain their participation through growth and development in all aspects of life. Each year more athletes from the African diaspora are recognizing that giving back through sports will create a great impact on developing young minds. "The camp happening tomorrow is the start of the journey of the return," Ms. Raymond said.
American football has been gaining popularity in the continent of Africa with a growing interest in the sport.  It's also quickly becoming the place to source raw untapped talent. Earlier this year the NFL announced holding a mid-year training camp in Africa, which is exciting news considering there are already players who have roots in Africa including Daniel Adongo (Kenya), Tamba Hali (Liberia), Ezekiel 'Ziggy' Ansah(Ghana) and Jeremiah Owusu-Koramoah (Ghana).
Mohammed Osman Nkosi, President of Football Operations , Titans of Africa,  has been the key to supporting the camp in Ghana.  He has continued to work on sourcing the right collaborations with the diaspora community to make this camp and future activities possible. "Associating Kiel's World Foundation and Titans of Africa will go a long way to impact not only Ghanaian youth but youth on the entire continent," he said. Ghana Tourism Authority and the Beyond the Return Secretariat endorsed this as an event that supports the vision of giving back to Ghana while also recognizing the importance of sports in the growth and development of Ghana's youth for the future.
For more information about the camp contact Mohammad Osman Nkosi via email at [email protected] or through Instagram at www.instagram.com/dirdevmoh.
By: Ivy Prosper