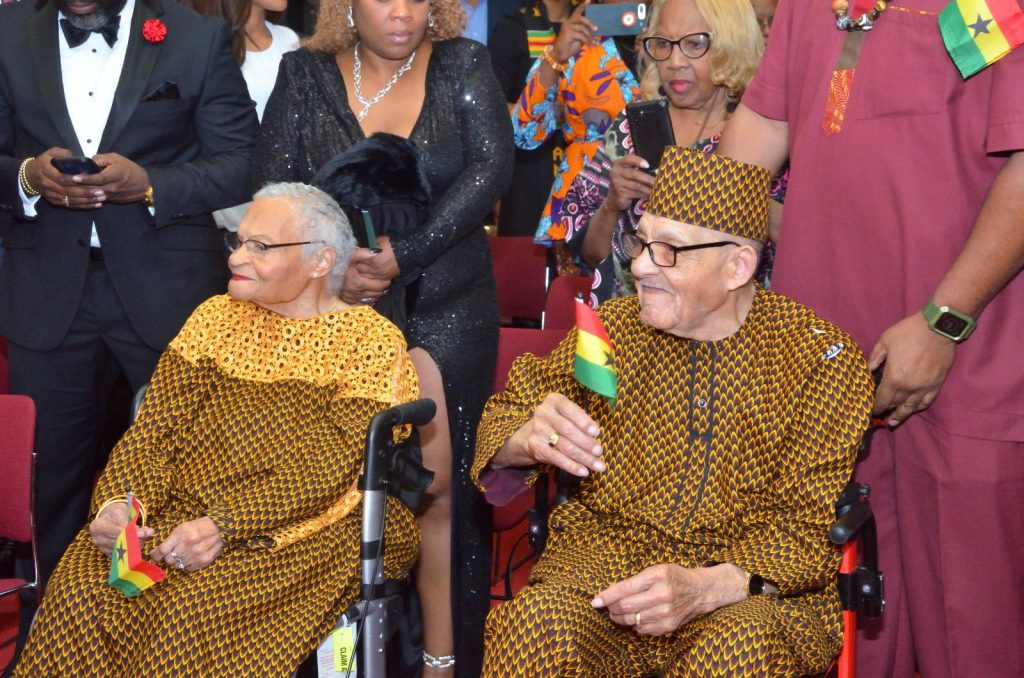 History was made yesterday as Viola Fletcher, 108 and her brother Hughes Van Ellis, 102, were granted Ghanian citizenship in a private ceremony at the Embassy of Ghana in Washington DC. The siblings held on to Ghana flags during the ceremony while wearing matching traditional Ghanaian printed garments in a golden and burgundy colour. A cultural troop performed traditional music and dance which brought smiles to their faces. The ceremony was organized by Ghana's Ministry of Tourism, Arts, and Culture, Ministry of Interior, the Ghana Tourism Authority, Beyond the Return, Diaspora African Forum, the Diaspora Affairs Office of the President and the Embassy of Ghana in DC.
The siblings came to Ghana for the first time in 2021, marking the 100th anniversary of the massacre that destroyed the all-Black neighborhood in Tulsa known as Greenwood on May 31, 1921. It was a community that was thriving and had one of the wealthiest Black communities in the United States. Fletcher was 7 years old and Ellis was an infant when the massacre happened. The Greenwood neighbourhood was destroyed leaving the people to pick up the pieces and start over. Since then, their story has been one of resilience and survival.
On their trip to Ghana, Fletcher said she was fulfilling a lifelong dream to visit Africa before she sees God. They were given the opportunity to meet the president of Ghana H.E. Nana Akufo-Addo. It was during that meeting that he made the decision to confer Ghanaian citizenship and offer a piece of land for them. The gesture is one that aligned with the 'Year of Return' 2019 campaign launched by the president to mark the 400-year anniversary of the first documented ship of enslaved Africans to arrive in the U.S. The campaign invited the global African diaspora to visit Ghana and experience the history, heritage and culture.
Ghana's Minister of Tourism Arts and Culture, Ibrahim Awal, CEO of the Ghana Tourism Authority, Akwasi Agyeman, Director of the Beyond the Return Secretariat, Annabelle McKenzie, Paramount King of the Igbo community in Ghana, Eze Dr. Chukwudi Ihenetu, Founder and Head of Missions at Diaspora African Forum, Ambassador Erika Bennett Grammy-nominated artist Rocky Dawuni, and Hollywood actress, A.J. Akua Johnson were among those in attendance to this special event.
Story by: Ivy Prosper