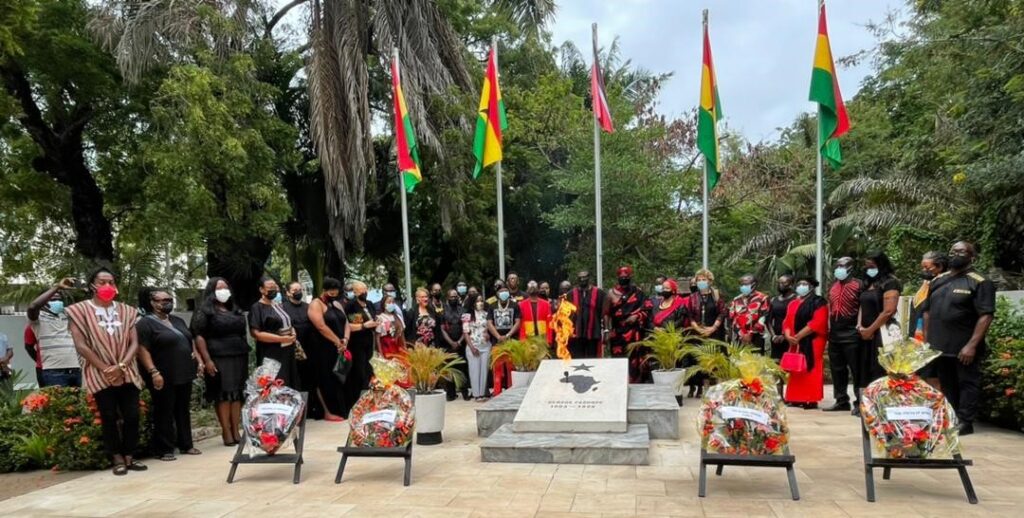 "It is imperative for us as Africans to use this period to come together, to reflect on the horrors of the trans-Atlantic slave trade and use this moment as a springboard to regain our right to write our own narrative," said Deputy Minister of Tourism Arts and Culture, Mark Okraku-Mantey during yesterday's wreath laying ceremony honouring W.E.B. DuBois, George Padmore and Kwame Nkrumah as leaders in the pan-Africanist movement.
Wreaths were laid by the Government and People of Ghana, Traditional Rulers, The Global African Family and the Youth of Africa, in honour of DuBois, Padmore and Nkrumah at their respective burial sites. The annual wreath-laying ceremony is a tribute to the ancestors and was the official opening of this week's PANAFEST activities. This year's theme is 'Securing the African Family: Our Health, Our Wealth, Our Soul'. The theme for Emancipation Day is 'Reclaiming Our Right to Weave Our Own Narrative.'"
CEO of Ghana Tourism Authority, Akwasi Agyeman spoke on the reason this event is significant and why we continue to honour the ancestors. "We do this to celebrate the resilience of the African spirit, because we went through this and we survived and we survived to produce presidents for the United States, we survived to produce world champions in athletics, we survived to produce musical icons…. and we survived to create several inventions and we have survived to tell the story to the next generation," he said.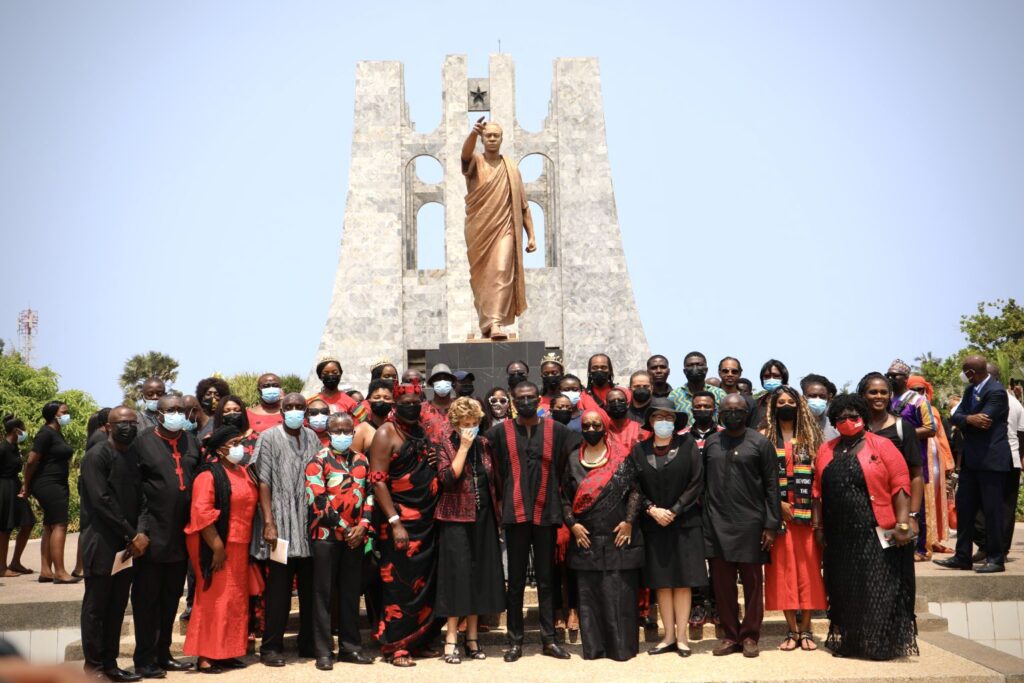 The Diplomatic Corps, Traditional leaders, members of the creative arts industry, tourism stakeholders, media and the diaspora community were among those who attended the ceremonies.
President of the African Heritage Studies Association, Dr. Ife Williams, who is the creator of the documentary film, Africa is Not a Zoo', was the event's Keynote Speaker. Williams spoke of the great reverence she has for Kwame Nkrumah and the work he did for Africa. "Our culture has been compromised. We don't know who we are as a people. We have been separated from our true inner selves, no longer acquainted with our potential. Divorced from our strength, yet we remain resilient…" she said. "Dr. Nkrumah and others saw the African solution to end oppression of our race is through African-centred revolutionary education that counters colonial misinformation…"
Director of Diaspora Affairs, Office of the President, Akwasi Ababio, summarized the words of Kwame Nkrumah, which still resonate at occasions like this. "The independence of Ghana would be meaningless unless it's linked up with the total independence of Africa." Expressing the importance of this and the value of the diaspora community, Ababio reminded everyone that all African states, and all people of African descent on the continent and the diaspora can be seen as one people.
PANAFEST & Emancipation activities will continue through August 1, 2021 with more events in Cape Coast. Visit the website, www.panafestghana.org for more details.
By: Ivy Prosper