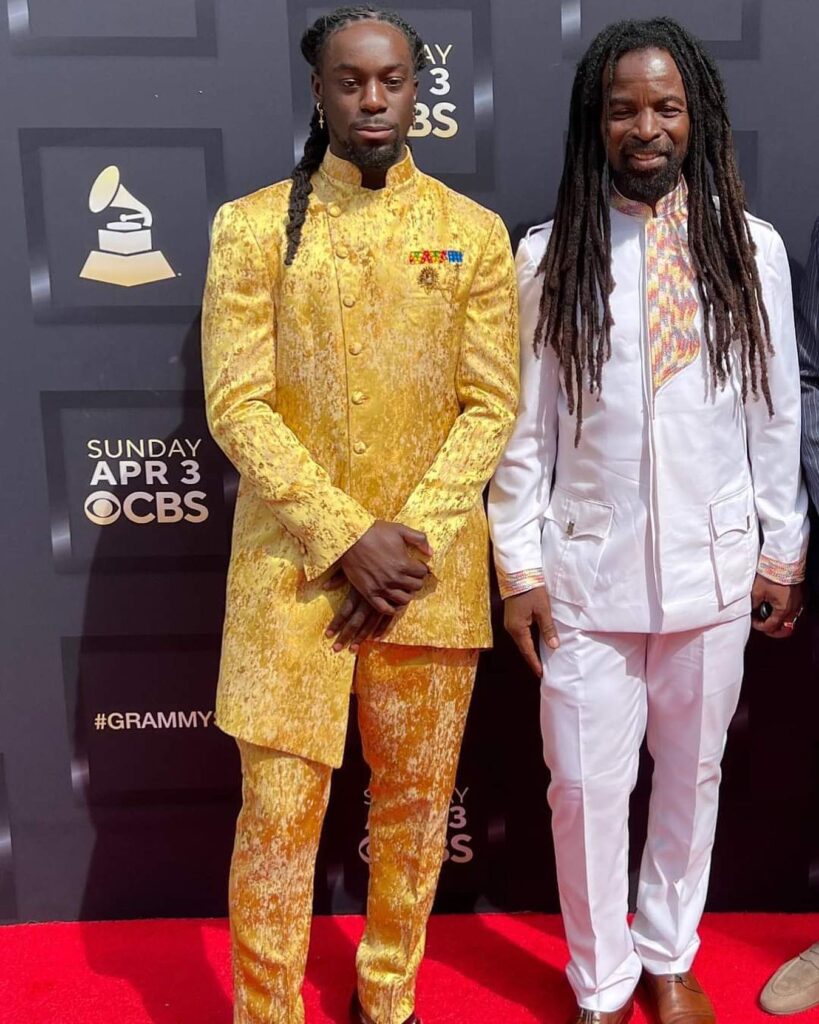 The 64th Grammy Awards were held at MGM Grand Garden Arena in Las Vegas on Sunday April 3, 2022. It was a star-studded event and there was no shortage of fashionable looks on the red carpet. This year's nominees included three Ghanaian artists; Rocky Dawuni, nominated for Global Music Album, 'Voice of Bunbon Vol 1'., Nabeyin nominated as a Producer, Album of the Year, 'Donda' and British-born Ghanaian-Barbadian, Yolanda Claire Quartey, known as Yola, nominated for two Grammys; Best Americana Album 'Stand for Myself' and and Best American Roots song 'Diamond Studded Shoes'.
Dawuni and Nabeyin both are 2-time nominees and did well to represent Ghana on the red carpet. Each wore custom looks by Ghanaian designers. Nabeyin in a gold suit by Kumasi-based Kuci Clothing and Dawuni, who brought his daughter with him to the awards ceremony, wore a white kaftan style suit by Elike Clothing. Yola, is a 6-time Grammy Nominee and made an entrance on the red carpet in a purple gown with furry sleeves and gloves that looked like bear paws.
"It's really an amazing day to be here representing my people of Ghana and also representing Africa for the Best Global Music Album," he said on the red carpet. "I feel privileged and honoured to be in this moment and also to be a person that is pushing our music to the rest of the world. It's a good day for the Academy, it's a good day for Africa, it's a good day for Ghana." Dawuni brought his daughter Saafiyah Dawuni to the ceremony and she was looking beautiful on the red carpet beside her father.
Although none of Ghana's artists won in their categories, we anticipate that as African music continues to gain a more global audience, it's only a matter of time for Ghana to see more artists receive nominations and winning in the future.
By: Ivy Prosper