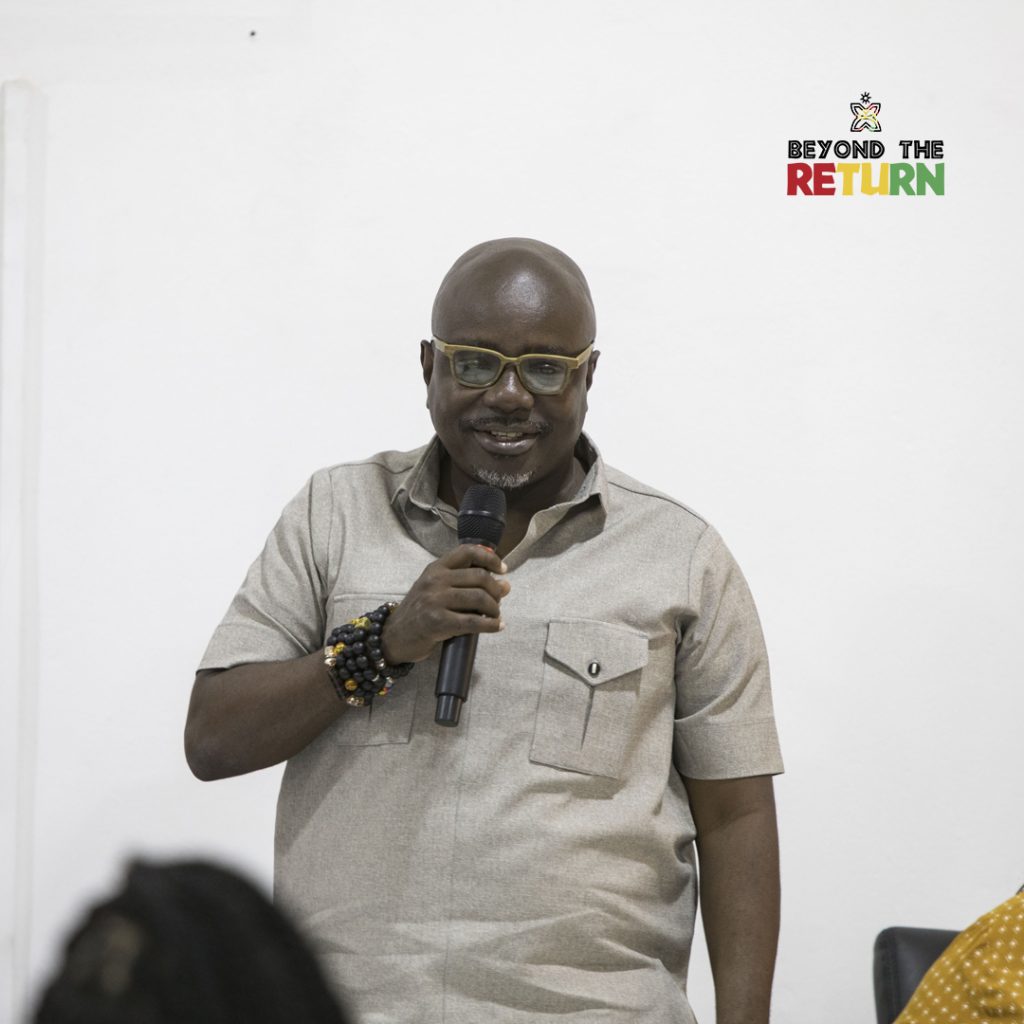 Another 'December in GH' has gone down in the books as a success. Since 2019, the 'December in GH' campaign launched by the Ministry of Tourism, Arts & Culture and the Ghana Tourism Authority, has become one of the most successful tourism campaigns in Ghana's history. "We endorsed 122 events as part of the December in GH calendar of events for 2022," said the Director of the Beyond the Return Secretariat, Annabelle McKenzie. Preliminary statistics show that over 98,000 arrivals were recorded at Kotoka International Airport in December 2022. That's an increase over the previous year when over 70, 000 was recorded in December 2021.
The Ghana Tourism Authority and the Beyond the Return Secretariat held a meeting with event organizers whose programs were officially endorsed as part of the official 'December in GH' activities for 2022. "We need to see how we can work better with all the event organizers to leverage what you've all created. That is why we found it wise to bring you here. We want to hear the commentary you have and see how it can impact what you're doing," said the CEO of the Ghana Tourism Authority, Akwasi Agyeman. He noted the importance of reviewing feedback received from visitors including their overall experiences with customer service, timing of events, and access to washrooms at event venues. He noted that some events had long queues to washrooms and it's one of the areas that can be improved to give better experiences to attendees at events.
One of the biggest challenges with events was the timing of programs. Many didn't start on time and patrons said this was a big issue for them. Recommendations on how to coordinate with venues was brought up as a way to reduce late starting times. With limited options for venues in Accra, some event organizers said they faced delays because of an event that may have happened the previous night where the cleaning staff are still taking down setups from the prior event. They are forced to wait until that is complete before they can even begin setup for their event, which causes extreme delays.
Eighty four percent of the 'December in GH' events were held in Accra, which creates competition for venues and can be a reason some organizers faced challenges. This year there were also events held in the Central Region, Upper East Region, Eastern Region, Ashanti Region and Western Region. The goal is to encourage more organizers to plan events outside Greater Accra so we can alleviate the stress on some of the venues in Accra and also give people a reason to travel to some of the other regions. Barimah Entamoty, who was the organizer of the YouTube Creators Festival said he's also a patron of events and noticed the challenges of programs starting on time, especially those where artists were scheduled to perform. "Why is it that we can't start off the event with some of these stars and personalities? Should they not be at the halfway point of the event, or they can even start the event?" he asked.
The increase in arrivals to Ghana in comparison to 2020 and 2021 is a clear indication that things will eventually come back to how it was in 2019 during the Year of Return. "In 2019 we saw a trend where people were flying to Cote d'Ivoire, to Nigeria, to Burkina Faso, just to get to Ghana," said Mr. Agyeman. This was because airlines were sold out of flights and people were desperate to get to Ghana and willing to transit in other countries. Ghana became the go to destination for the African diaspora as they travelled into the country to experience some of the events happening including large-scale festivals like Afrochella, AfroNation and Detty Rave. The success of 'December in GH' as the climax for Year of Return was amazing and sadly 2020 and 2021 suffered losses because of the global pandemic. It's why December 2022 was so exciting. People were ready to travel again especially with so many Covid-19 restrictions lifted around the world it facilitated a better travel experience.
Overall event organizers were satisfied with the growth in visitors compared to 2021. "On a whole, we are looking forward to the next event for 2023. With the lessons we learned from this past year, this will be even better.," said Kokui Selormey Hanson, organizer of Nubian Noel which took place at the National Theatre. She expressed how smooth it was partnering with Beyond the Return for the endorsement and the value of getting promoted through social media.
This December there were two events endorsed from the Upper East Region. It wasn't the first time, BTR endorsed an event in the Upper East region. In 2021 an arts and crafts festival in Bolgatanga was endorsed. For 2022 there were two events in that region that were added to the 'December in GH' calendar. "The endorsement was actually good for us," said one of the organizers of the All-White Drink Up Party which happened in Navrongo. "This is the first time that an event in Navrongo (Upper East Region) got national recognition. We had posts from Beyond the Return and because of that people actually came to the event because it was endorsed. So, it actually helped us a lot."
Many event organizers used the meeting as an opportunity to also share their positive experiences as well as the ways all parties involved can support each other and make improvements for 2023. "We want to get to a point where we have regular meetings with event organizers so we can work together to improve," said Mr. Agyeman.
Story by: Ivy Prosper