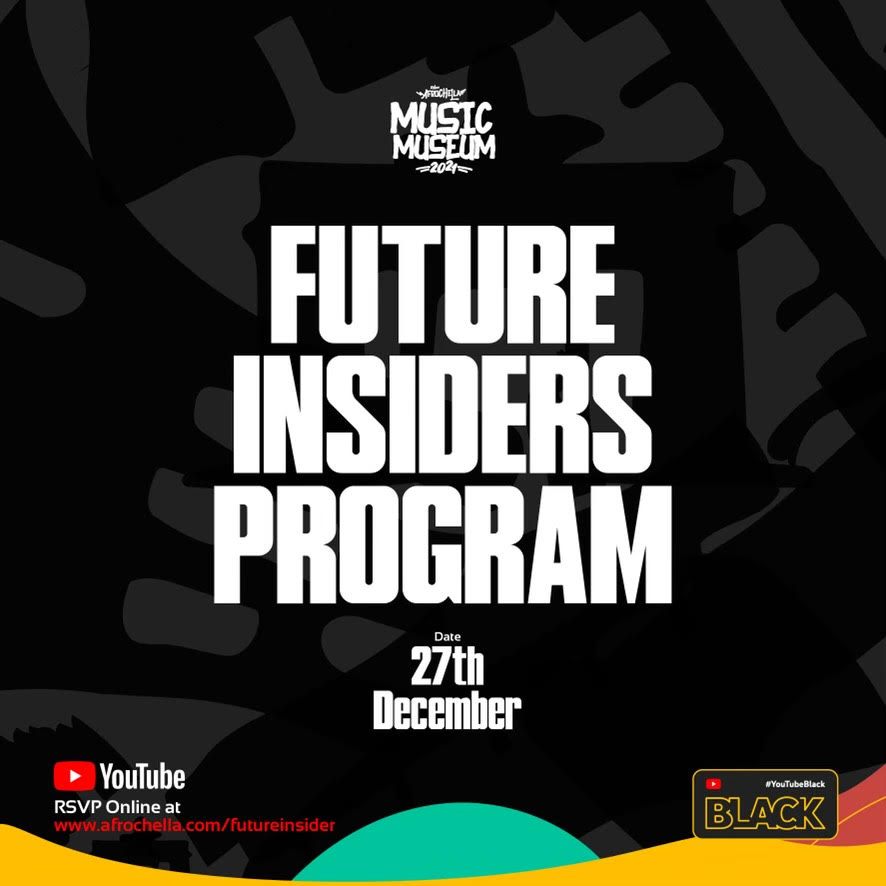 Culture Management Group, the organization behind Afrochella, has announced a partnership with YouTube Music.  This is a groundbreaking collaboration that aims to bring music programs to the continent of Africa.  This will help to develop the next generation of African artists and support their aspirations in the music industry.  There will be a one day in-person event hosted by the Afrochella Music Museum on December 27th at 12pm at BBnZ Live in Accra. 
Beyond the Return is excited to have endorsed the Afrochella Music Museum as part of this year's December in GH events.  There are so many youth in Ghana who will benefit from this event which will provide insight into developing a career in the music industry.  This aligns with the 'Invest in Ghana Pillar because it's a program that will invest in the talent development of young Ghanaians helping them to become competitive on an international level.
The Future Insiders program will provide the opportunity to learn hands-on the skills from music professionals and industry experts.  The event will include two production master classes on the art of making beats.  Ghanaian producers Juls and Guiltybeatz will be the industry experts teaching the class.  Future Insiders is a portion of the Music Community Pillar of the Black Voices Fund which is designed to create opportunities for young people to get exposure and learning tools.  They've partnered with many community organizations in New York, Los Angeles, Houston, Atlanta, London, Rio de Janeiro, The Bay Area, Lagos and now Accra.  
"We're so proud to join #YouTubeBlack to bring musical education resources to Ghana," said Abdul Karim Abdullah, CEO and Co-Founder of Afrochella. "With the help of this program, we can continue to inspire and influence the next generation of young African artists. Afrochella has long been a beacon of light for young talent in Africa and we are thrilled to partner with them to further strengthen our commitment to empowering the next wave of Black voices."
The one-day event will also include panel discussions that will offer insight and important information on the music industry.
The topics that will be covered include the following:
Future Voices of Africa: A rich conversation with the next generation of voices and leaders in African music.
A Queen Leads: A session spotlighting the innovation and creativity led by women in the music industry.
The Diaspora Effect: A discussion about the diaspora's effect on the growth of African music.
For more information on how to attend and participate in the one-day event, contact Afrochella by email on [email protected] or visit their website at www.afrochella.com.
By: Ivy Prosper