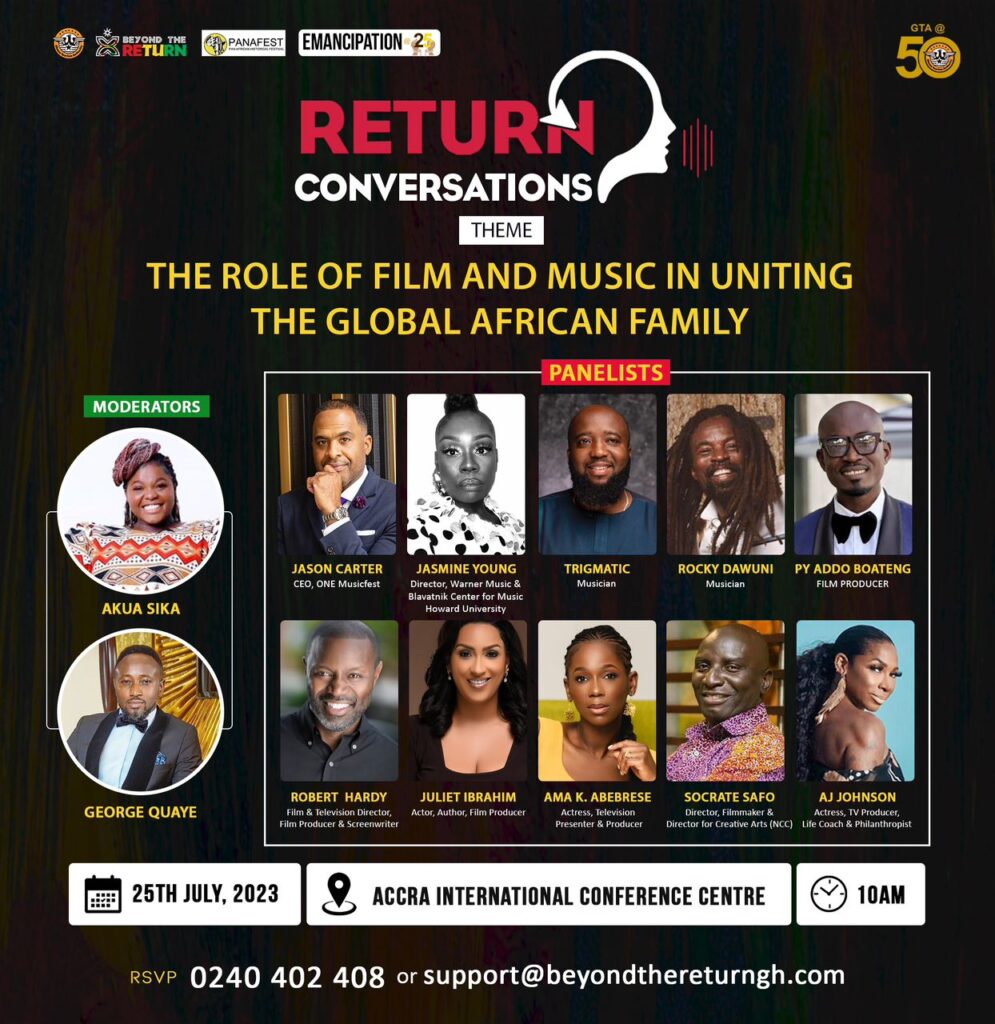 Ghana Tourism Authority and the Beyond the Return Secretariat, together with the PANAFEST Foundation will hold a transformative event that aims to bridge the gap between Africans and the global African diaspora through music and film. 'Return Conversations: Role of Film and Music in Uniting Global Africans' is scheduled to take place at the Accra International Conference Centre on July 25, 2023 at 10am. This event focus will be on the unifying potential of film and music in telling our stories.
A Forum for Unity and Cultural Exchange
The upcoming event promises a series of thought-provoking panel discussions, where participants will delve into the profound impact of film and music as powerful channels for fostering unity, understanding, and cultural exchange among Global Africans. Experts hailing from the Ghanaian and international film and music industries will take center stage to share their valuable insights and experiences on how these artistic mediums can serve as catalysts for connection, empowerment, and mutual appreciation.
Distinguished Voices in Film and Music
'Return Conversations' will include an impressive lineup of speakers, each a luminary in their respective fields:
Jason Carter: The CEO of ONE Music Festival, Jason Carter has been at the forefront of promoting music as a universal language transcending geographical boundaries.
Jasmine Young: As the Director of Warner Music and the Blavatnik Center for Music Business, Jasmine Young brings a wealth of expertise on the global influence of African musical talent.
Trigmatic: A celebrated Ghanaian musician whose artistry has resonated with audiences worldwide, Trigmatic embodies the universal power of music to transcend cultural barriers.
Rocky Dawuni: A multiple Grammy-nominated and critically acclaimed Ghanaian musician, Rocky Dawuni's work has been an instrumental force in uniting people through the use of his storytelling and advocacy through his music and philanthropic work.
PY Addo-Boateng: With a diverse background encompassing music executive roles, film production, acting, and event production, PY Addo-Boateng's contributions will provide multifaceted perspectives on creative industries.
Robert Hardy: A seasoned film and TV director, film producer, and screenwriter, Robert Hardy's profound contributions to cinema enrich the discussions on filmmaking.
Juliet Ibrahim: Embodying versatility as an author, actor and film producer in Ghana and Nigeria, Juliet Ibrahim will bring a unique perspective to the event.
Ama K. Abebrese: As an accomplished actress, TV presenter, and producer, Ama K. Abebrese's presence adds depth to the discussions on the arts and entertainment.
Socrate Safo: As a renowned filmmaker and the Director for Creative Arts at the National Commission on Culture, Socrate Safo's expertise offers valuable insights on the interplay of film and culture.
AJ Johnson: An actress, TV producer, life coach, and philanthropist, AJ Johnson brings passion for the arts and community impact to the forefront. Since her first trip to Ghana in 2019, she has had a strong passion for bridging the gap between the Diaspora and West Africa.
This event will be an enriching experience that celebrates the unity and interconnectedness of Global Africans. This event is free with limited tickets available on Eventbrite. Don't miss this event that will strengthen connections, build for the future and celebrate the richness of our diversity in film and music.
Tickets: https://www.eventbrite.com/e/return-conversations-role-of-film-music-in-uniting-global-africans-tickets-680936067107
Story by Ivy Prosper