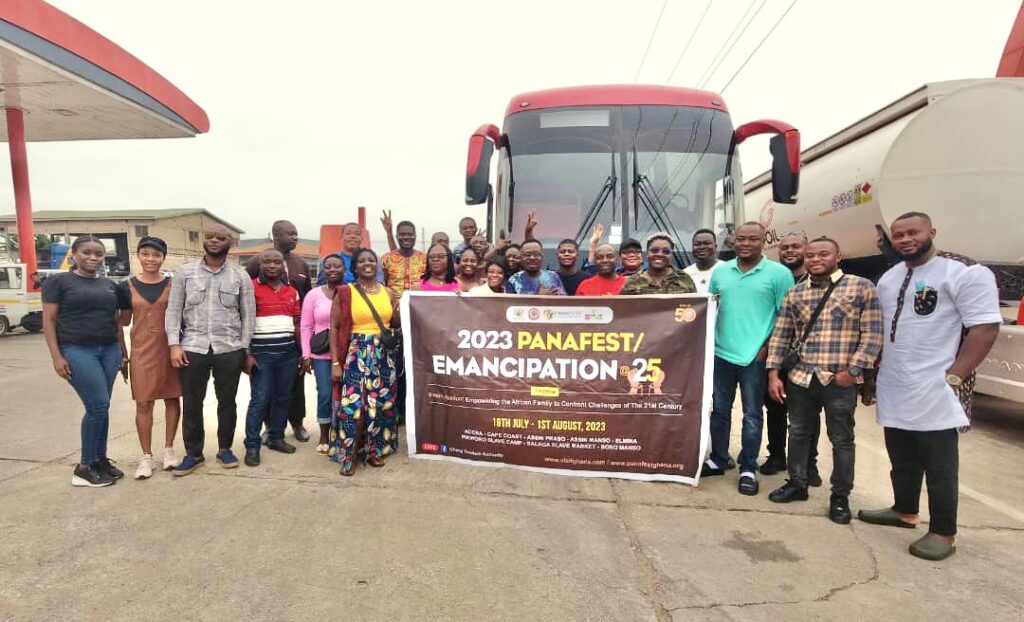 The 2023 PANAFEST & Emancipation Day celebrations have begun with a 5-day pilgrimage that embarks on a journey to the Northern region of Ghana and back to the South, retracing the historical routes where captured enslaved Africans travelled before their captivity in the Cape Coast and Elmina Castles, and their eventual departure to North and South America and the Caribbean.
This year's theme for PANAFEST is "Empowering the African Family to Confront Challenges of the 21st Century". During the Northern regional tour, participants will partake in a series of meaningful activities, including a durbar of Chiefs at the Pikworo Slave Camp in the Upper East Region, an atonement ceremony at the Salaga Slave Camp in the Northern Region, and an emotional conversation with Elders and a tour of the Bono Slave Market in the Bono East Region, concluding with a symbolic crossing of the River Pra at Assin Praso in the Central Region.
The commemorative event will continue with wreath-laying ceremonies, a solemn tribute to our ancestors, at iconic locations such as the W.E.B Du Bois Centre, George Padmore Library, and the Kwame Nkrumah Memorial Park on Monday, July 24, 2023, in Accra.
Cape Coast will serve as the backdrop for various activities including inter-faith dialogue, colloquium, return journey and Akwaaba ceremony, youth day, durbar of traditional leaders, women's day, and reverential night.
PANAFEST, an acronym for Pan-African Historical and Theatre Festival, has been an integral cultural event in Ghana since 1992, aimed at fostering unity, Pan-Africanism, and the development of the African continent for Africans and people of African descent. Emancipation Day, established in Ghana in 1998, commemorates the abolition of slavery in the British Colonies in 1834 and holds deep significance for individuals seeking to connect with their African roots and heritage. Ghana was the first African country to acknowledge Emancipation Day.
A select group of about 50 participants has been chosen for this enlightening pilgrimage tour. Among them are dedicated individuals from the Ghana Tourism Authority, esteemed representatives from various tourism associations, and members of the general public. The participating associations include the Tour Operators Union of Ghana, Car Rentals Association of Ghana, Tour Guides Association of Ghana, Ghana Hoteliers Association, Tourism Society of Ghana, Ghana Progressive Hotels Association, and the Diaspora Community.
As we embark on this significant journey, we unite in spirit and purpose, embracing our past with open hearts and minds. Together, we seek to reclaim our African identity, connect with our roots, and forge a path of empowerment for future generations.
Story by: Ivy Prosper