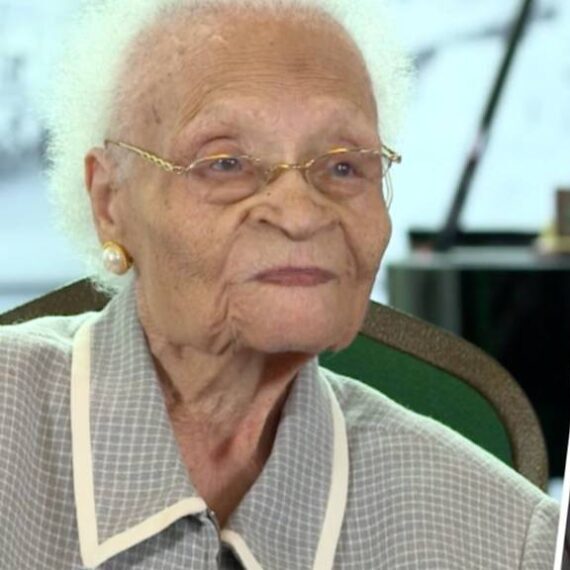 Two survivors of what is known as the 'Black Wall Street' Massacre of 1921 are coming to Accra this month. Mother Viola Fletcher is 107 years old and will be travelling with her 100-year-old brother, Hughes Van Ellis aka 'Uncle Redd'. Together they will fulfill their dream to travel to the African continent. They chose Ghana, West Africa because the country has shown itself to be a success story and one with a strong pan-Africanist history welcoming the African diaspora for decades.
Until recently, the tragic events of the massacre in Tulsa, Oklahoma were rarely discussed and hidden from American history. From May 31 – June 1, 1921, a violent mob of whites in the city of Tulsa ambushed the prosperous Black community known as Greenwood. This area has been referred to as 'Black Wall Street' because of the level of independence, financial success and freedom the community experienced. The mob burnt the community to the ground which left Greenwood completely destroyed. Black residents lost their homes and businesses. It was the complete erasure of everything they had built over several years. It's estimated that 3000 people were attacked and gunned down with bodies dumped in unmarked graves. Mother Fletcher and her brother 'Uncle Redd' are survivors of this horrible massacre. It's a piece of American history that was kept hidden for decades and it's only in recent years that it's become more openly spoken about in America.
The city of Tulsa commemorated the 100-year anniversary of the massacre with a ceremony attended by President Joe Biden. "For much too long, the history of what took place here was told in silence, cloaked in darkness. But just because history is silent, it does not mean that it did not take place. And while darkness can hide much, it erases nothing. It erases nothing. Some injustices are so heinous, so horrific, so grievous they can't be buried, no matter how hard people try," remarked Biden at the ceremony.
Mother Fletcher recalls the events of the massacre saying, "On that first night, in 1921, I went to bed in my family's home in Greenwood, a community that was rich, not only in terms of wealth, but in culture, community, and heritage," she said. "My family had a beautiful home. We had great neighbors, and I had friends to play with. I felt safe. I had everything a child could need. I had a bright future ahead of me. Greenwood could have given me the chance to truly make a good life in this country. But within a few horrible hours, all of that was gone." But now, after all these years, I'm so happy to be fulfilling a lifelong dream of going to Africa and I am so pleased that is to beautiful Ghana."

OUR BLACK TRUTH and the Diaspora African Forum (DAF) are sponsoring this historic trip for Mother Fletcher and her brother Uncle Redd. DAF has prepared tours and receptions at special events to honor them. "I will never forget all that we escaped that so many others did not. I relive my memories of the Massacre every day…" Mother Fletcher said. "When my family was forced to flee Tulsa, I lost my chance at an education. I never finished school past the fourth grade, and never made much money. But now, at long last, at least I get to see Africa before I see God."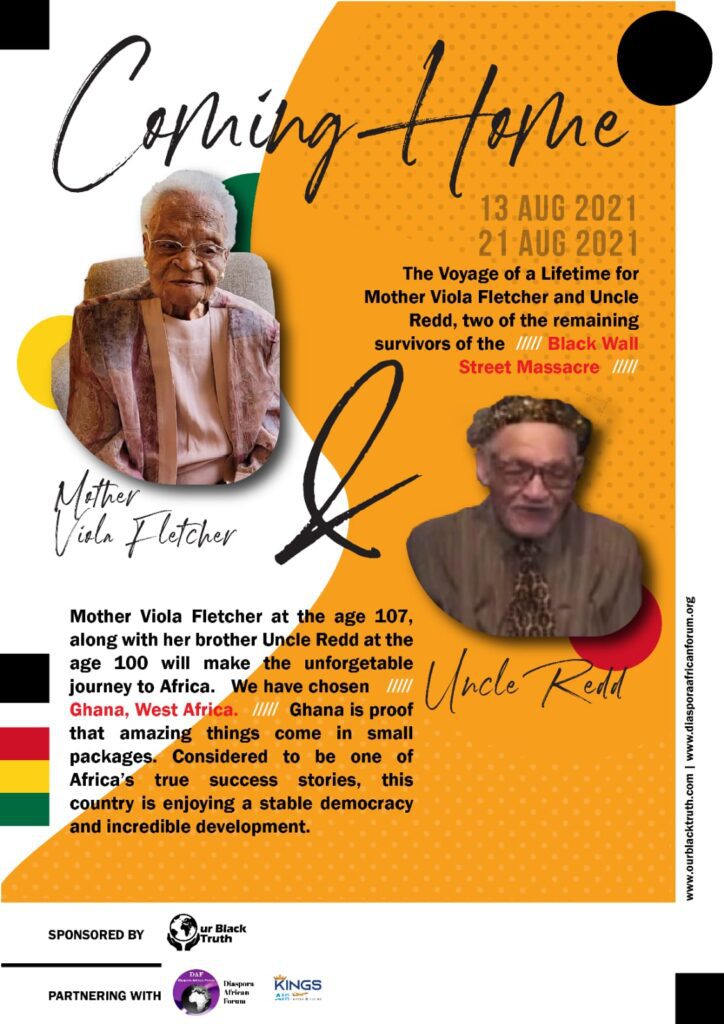 By: Ivy Prosper