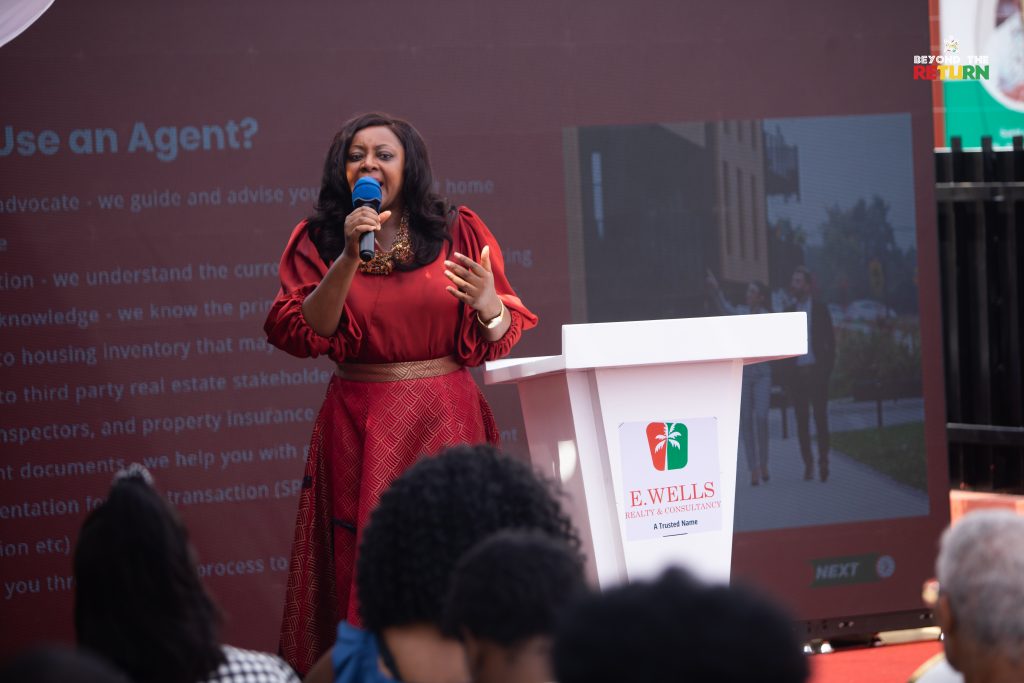 Recently named the 'Trusted Real Estate Broker of the Year 2022' by the Ghana Property Awards, E. Wells Realty & Consultancy held its first Home Buyers Seminar on 8th December at their head office located in East Legon. Endorsed as an official 'Beyond the Return' event, it was part of the 'December in GH' calendar and an important one that aligns with the Beyond the Return initiative's 'Diaspora Pathways to Ghana Pillar. The Ministry of Tourism, Arts, and Culture, Diaspora Affairs, Office of the President, and Ghana Tourism Authority were also partners in supporting this seminar that supported the diaspora.
Since the Year of Return 2019, members of the diaspora community continue to make the decision to relocate their lives to Ghana. In doing so, purchasing a home and buying land is often top priority. But with an infrastructure that often leaves them confused, the diaspora is always seeking information that can help support their decision to move to or invest in Ghana. CEO of E. Wells Realty & Consultancy, Hanna Atiase, said she has heard many horror stories of people losing large sums of money in an attempt to buy property in Ghana. "I conducted this seminar for two main reasons. Number one, to educate the public on the home buying process, so you avoid becoming victims of fraud. Number two to change the narrative about real estate agents because we are an integral part of the home buying process," she said.
Several members of the diaspora attended the event in hopes of learning more about the process of getting property in Ghana. Too many of them shared personal experiences feeling they were taken advantage of by some local agents who knew they were not familiar with the system in Ghana. Atiase stressed the importance of doing your due diligence when buying land or homes in Ghana. "Don't just trust anybody with one of the greatest investments you'll probably ever make in your lifetime," she said. Doing a background check on agents by checking with the Register General and researching if they belong to any official associations are tips shared on the process.
Speakers at the event included Director of Diaspora Affairs, Akwasi Awua Ababio, President Ghana Association of Real Estate Brokers, Jacob Ansong, Chief Commercial Officer Seso Global, Kweku Essien, Operations Manager CBC Properties, Angela Tawiah, and Lawyer, M&O Law Consult, Emmanuel Sackitey Mate-Kole.
"We are passionate about our nation and in helping the diaspora and Ghanaian residents seek professional help in their real estate and home buying endeavors," said Director of Diaspora Affairs, Akwasi Ababio. He said they want to help ensure that any real estate transactions are successful and without hassle. He said that it was very important to mention that there are efforts to bring sovereign programs that would go a long way to compliment the efforts put in place ensuring that the real estate industry is well regulated to support the community.
Story by: Ivy Prosper