Pat Thomas is one of Ghana's national treasures when it comes to the music industry. With a career that has spanned over four decades and 15 albums, he was recognized with a special award at the ninth edition of Rhythms on da Runway this past weekend. Managing Director of CitiFM, Samuel Atta-Mensah, presented the Black Star Honour award to the music legend.
"This goes to uncle Pat Thomas, the golden voice of Africa," Attah-Mensah said, "In appreciation for your lifelong dedication to the creative arts, for leaving an indelible legacy, for being a shining black star. For this, Africa says thank you." Thomas received his honour to applause and thanked God for giving him the strength to take the award. "I would like to congratulate the organizers of this proram for remembering me." He thanked his fans for supporting him in his career and acknowledged his wife.
Nigerian Actor, Richard Mofe-Damijo (RMD) was also given special recognition with a Black Star Honour award at the event. He's made his mark in the film and television industry since the 1980s and continues to be an important part of the creative arts industry in Africa. "This is a very big thank you to the organizers of this event. I'm super thankful, super grateful to Ghana, which is like my second home," Mofe-Damijo said while accepting his award.  He also walked down the runway with the designer for MUDI Africa after the collection was shown at the event.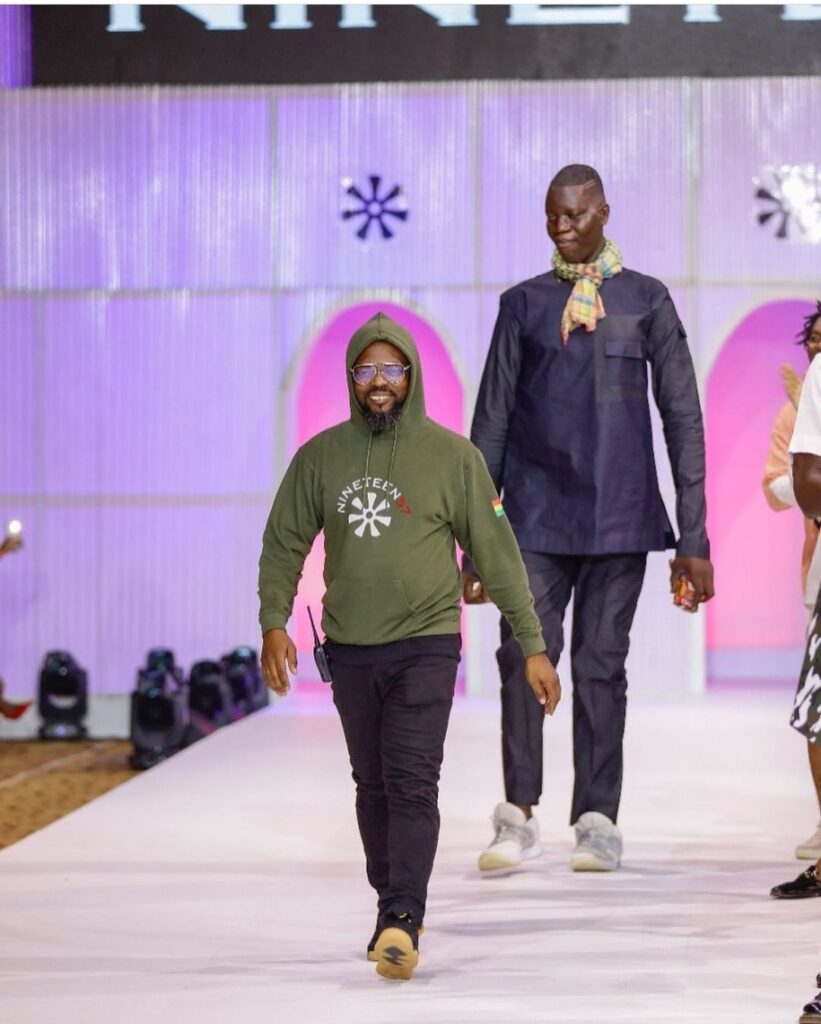 The theme of this year's Rhythms on da Runway was 'The Masquerade', intended to be a response to the wearing of masks we've become so accustomed to due to the pandemic. The set design both in the show and outside the event provided the perfect setting for attendees to take in the atmosphere and showcase the best of African fashion. Designers that showed collections included Nadrey Laurent, Aha Brands, Senyo Foli, and Mary Martin.  Kofi Okyere Darko (KOD), is the man behind the event and he said the goal was to bring a vision to life that embodies the spirit of Pan Africanism. He says the dream is making the event one that attracts beyond the African diaspora. His brand Nineteen57 featured a military-inpisred collection with some of his most creative looks on the runway.  Twenty-two year old Charles Sogli, known as one of the tallest people in Ghana, had the chance to strut down the runway for the first time and received cheers from the crowd.  
Music artists that performed at the event included Efya, Kidi, D-Black, Epixode, Adina, Elsie Duncan Williams and Samini.