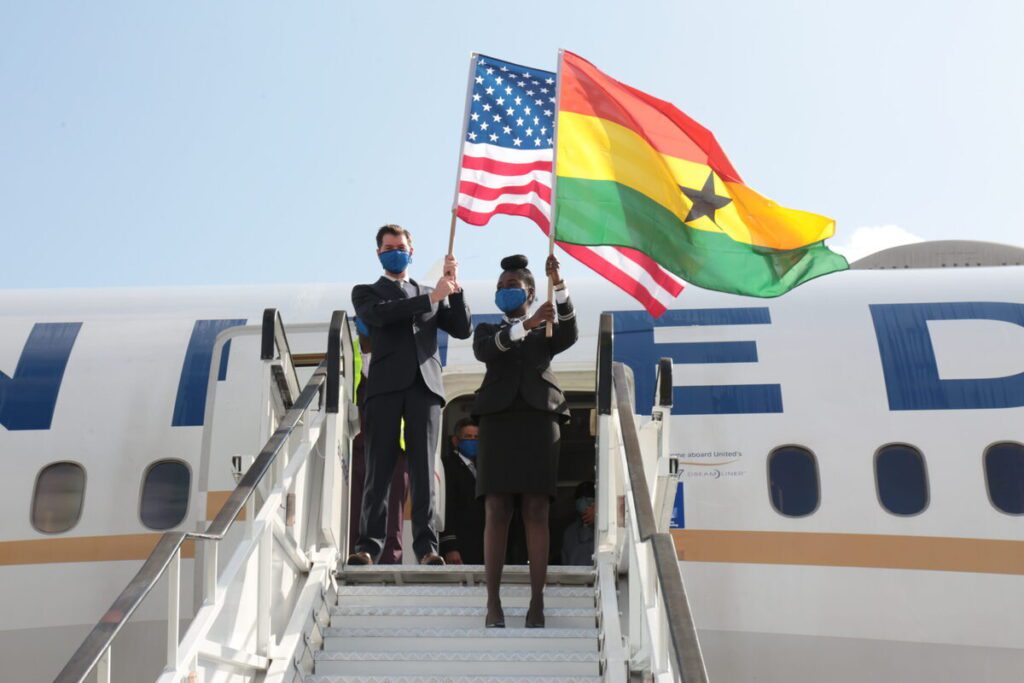 On May 15, 2021, United Airlines resumed operations to Ghana with an inaugural direct flight to Accra.  U.S. Ambassador to Ghana, Stephanie Sullivan welcomed the airline at the press briefing held at Kotoka International Airport.  "I'm pleased to personally welcome United Flight 996's inaugural flight from Dulles International Airport in Virginia to Kotoka International Airport in Accra.  Let's all wish United Airlines a warm, and I do mean warm,  "Akwaaba" to Ghana," she said.
The flight was welcomed with fanfare in true Ghanaian style as a traditional dancer performed the Adowa Dance on a red carpet.  Those in attendance for this inaugural flight included Amin Abdul Rahman, who represented the Hon. Minister of Transportation Kweku Ofori Asiamah, Ghana Airports Managing Director Yaw Kwakwa, United Airlines VP of International Network Alliances, Patrick Quayle, CEO of Ghana Tourism Authority, Akwasi Agyeman, CEO of Ghana Investment Promotion Centre and other dignitaries.  

In a speech read on behalf of Hon, Minister Asiamah, he said, "We are thankful for the bold decision of United Airlines to return to the shores of Ghana at such a difficult time in the global aviation industry and for choosing Kotoka International Airport to once again promote closer ties between the two countries, giving us a second direct entry point into the U.S."  The airline, which previously ended its operations to Ghana in 2012, will resume with three flights a week on Mondays, Thursdays and Saturdays.
Ambassador Sullivan closed her speech by saying, "As we welcome United Airlines back to Ghana, I am reminded that 'the path to a friend's home is never far.'  Indeed, we are shortening the path between our two friendly countries, reuniting Ghana with the United States and vice versa."