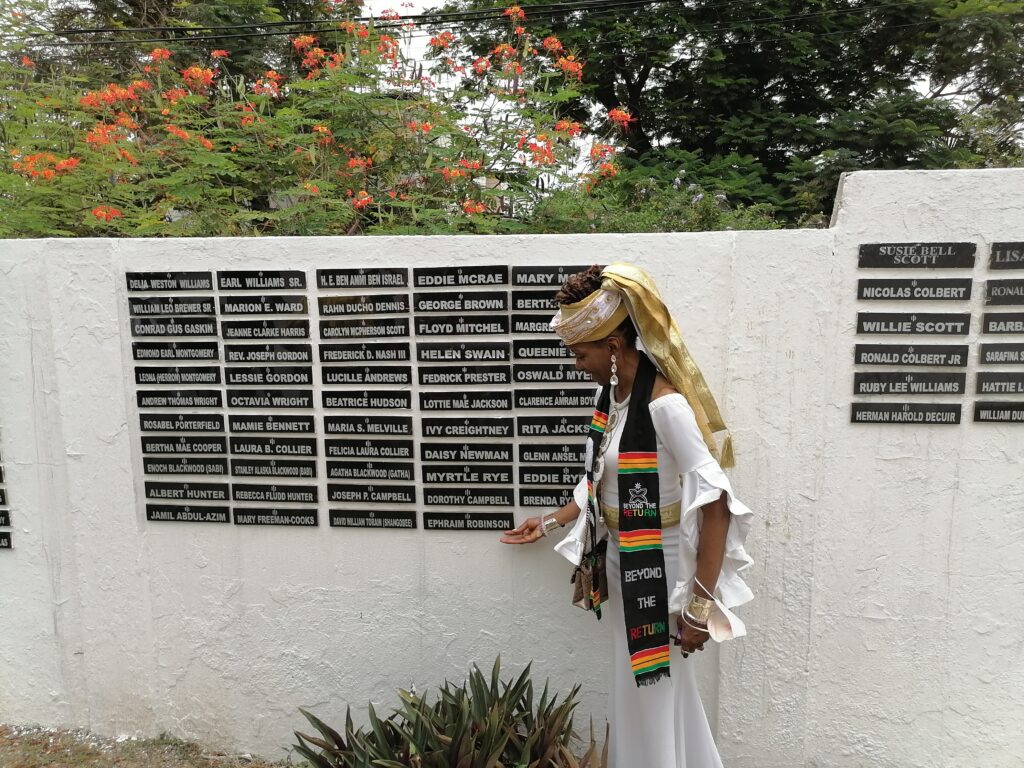 Imagine seeing the names of your deceased family members immortalized among the names of some of the most significant people in Black history. That's the experience that was given to a group of African Americans who travelled to Ghana on a wellness tour. The Sankofa Wall is located at the Diaspora African Forum, behind the W.E.B. DuBois Centre. It features many notable people from the African diaspora and continental Africans who made a significant impact in the world. Last year new names were added to the wall including civil rights leaders, Congressman John Robert Lewis, Congressman Elijah Cummings, George Floyd, who died at the hands of a Minnesota police officer and Actor, Chadwick Boseman, best known for his role the movie 'Black Panther', who died from a battle with colon cancer, were also added to the wall.
H.E. Ambassador Erieka Bennett is Head of Missions at DAF and has been instrumental in having the names of important people in Black history recognized in Ghana. On March 24th, Ambassador Bennett held a small ceremony for Holistic Health Practitioner, Queen Afua and her wellness delegation to welcome them to Ghana and to help them honour their family members by giving them a symbolic place in Ghana. Political Analyst and Attorney, Angela Rye, was among those who were given name plates of their deceased relatives to add on the Sankofa Wall.
"My grandfather said he was going to come back as a crow when he died," said Rye.  "Every time a crow is present, what I know from crow medicine is that they are the bringers of truth and that's what my name means." she said. "Every time I see a crow it's confirmation…but today, there are three members of my dad's side of the family that I'm putting up today and right before Leroy finished [speaking], three crows came." She smiled as she held the name plates.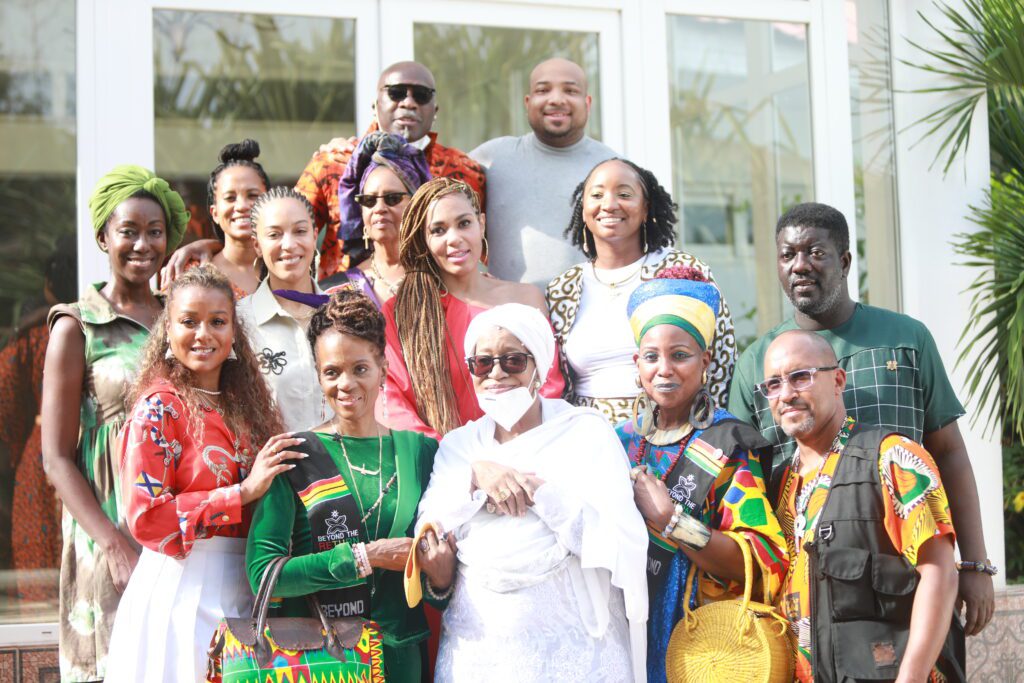 For African Americans, and others in the global African diaspora, the connection to Africa is hundreds of years in the making. The knowledge of your ancestors having gone through the struggle of the trans-Atlantic slave trade is filled with pain yet there is a yearning to learn more of the history. Today, African Americans continue to suffer the adverse effects and trauma associated with racism.
This symbolic gesture at DAF, provided a sense of peace for everyone knowing that their relatives names would be on the continent forever. "We're so honoured that you'll put your ancestors name on the Sankofa Wall," said Ambassador Bennett. "Sankofa as you all know means come back to your roots and a lot of your ancestors did not get the opportunity to come to Africa, but their name is now in Africa."
"I am the sixth child of Dorothy and Joseph Campbell. Two people who were born too soon, in the history of our people. They didn't get to see the success that I became," said World-renowned Artist, Leroy Campbell as he held his parents names in his hand. "Their spirit, this woman and this man, who were robbed from being the people they should have been, without the interruption of slavery." He and the others were all experiencing emotion as they realized their family members' names would be in Africa forever.
They will return to the Diaspora African Forum (DAF) at the end of their journey in Ghana to see the names affixed to the Sankofa Wall.