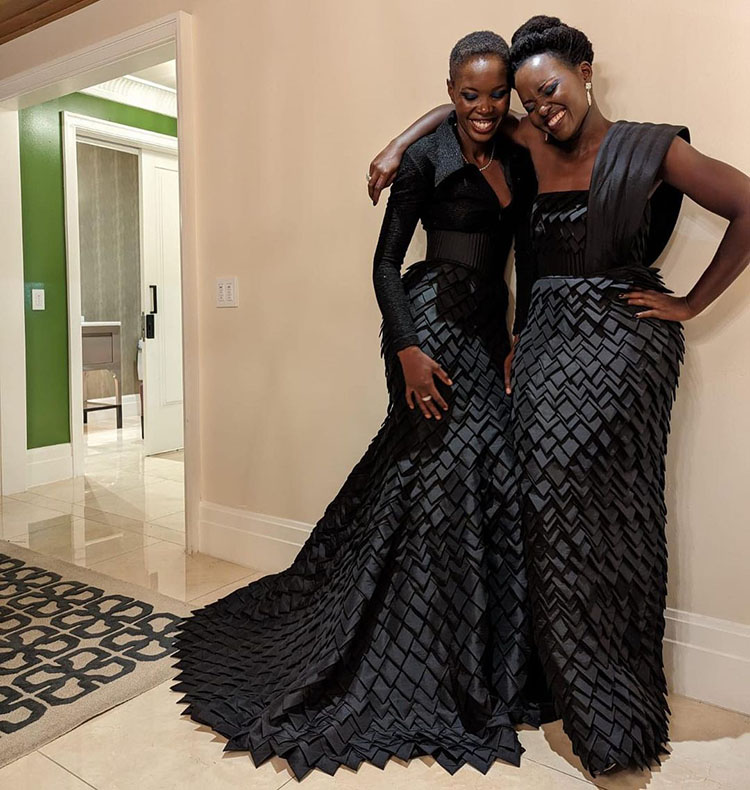 Lupita Nyong'o wore an original gown by Ghanaian designer Duaba Serwa to the fifth annual Wearable Art Gala in Santa Monica, California. Her sister Fiona Nyong'o was also wearing a matching dress by the designer. The dresses both featured the signature style of Duaba Serwa with intricate, geometric, structured details that draw from traditional Ghanaian fashion and emphasis on the beauty of a woman's waistline. This moment was a big win for the Ghanaian fashion industry to have this on a global platform worn by one of the world's most highly respected African actors.
The annual gala, which celebrates Black excellence, chooses a theme each year that explores African culture and how it bridges the gap and comes together with the western world. This year's theme was the Harlem experience and connected with the era of the Harlem renaissance. It was a star-studded event as attendees included Beyonce, Jay-Z, Michelle Williams, Kelly Rowland, Marsai Martin, Issa Ray and Tyler Perry.
The Wearable Art Gala supports the Where Art Can Occur Theatre Centre (WACO) in North Hollywood. Founded by Richard Lawson and Tina Knowles Lawson in 2017, the theatre is located in an arts district of Los Angeles and is one of the few places in the United States that supports the performing and visual arts for the African Diaspora community.
By: Ivy Prosper