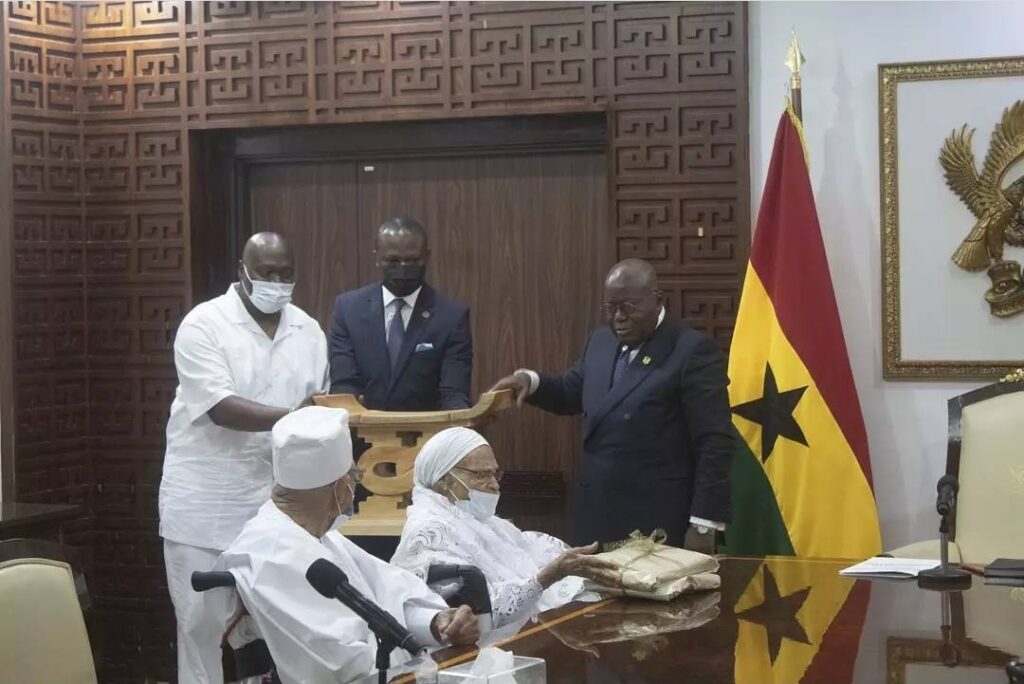 In a full circle moment, the President of Ghana, Nana Akufo-Addo, who led the initiative of the 'Year of Return' inviting the diaspora to Ghana, offered Ghanaian citizenship to Viola Fletcher, age 107, and her brother Hughes Van Ellis (Uncle Redd).age 100. Never did anyone imagine that after over 400 years of their ancestors being displaced from the continent of Africa, that they would one day return and be able to claim citizenship on the land of their forefathers. After all that they have endured, their ancestors must be smiling on them with great joy on their return.
Deputy Director of Diaspora Affairs, Office of the President, Dr. Nadia Musah, said that it was an emotional moment when the president offered them citizenship. "None of us knew he was going to do that," she said. "It was quite an emotional moment for everyone." Uncle Redd, who has been declaring 'We are one' throughout their trip, was acknowledged by the president for what he said. According to Diaspora Network Television, the president said "I think that Uncle Redd said it all that we are one." This sentiment is in complete alignment with the Year of Return and Beyond the Return initiatives led by the president to reconnect the global African diaspora community with Ghana. Since 2019 several historical diaspora have made that life-changing journey to Ghana and most have left feeling changed forever.
Mother Fletcher and Uncle Redd are survivors of the 1921 Tulsa Race Massacre when a mob of whites burned down a thriving black community in Tulsa, Oklahoma often referred to as 'Black Wall Street'. Fletcher was 7 years old, while her brother was a baby when the tragedy happened. She's often spoken of still being haunted by the memories 100 years later. It's been a lifelong dream to travel to the African continent and the pair never imagined it would one day come true. Thanks to the support of the Diaspora Africa Forum and Our Black Truth, their trip was sponsored and they not only came themselves, but brought family members along to experience the journey. They've been in Ghana nearly a week and have stated on a few occasions, they don't want to go back home.
By: Ivy Prosper