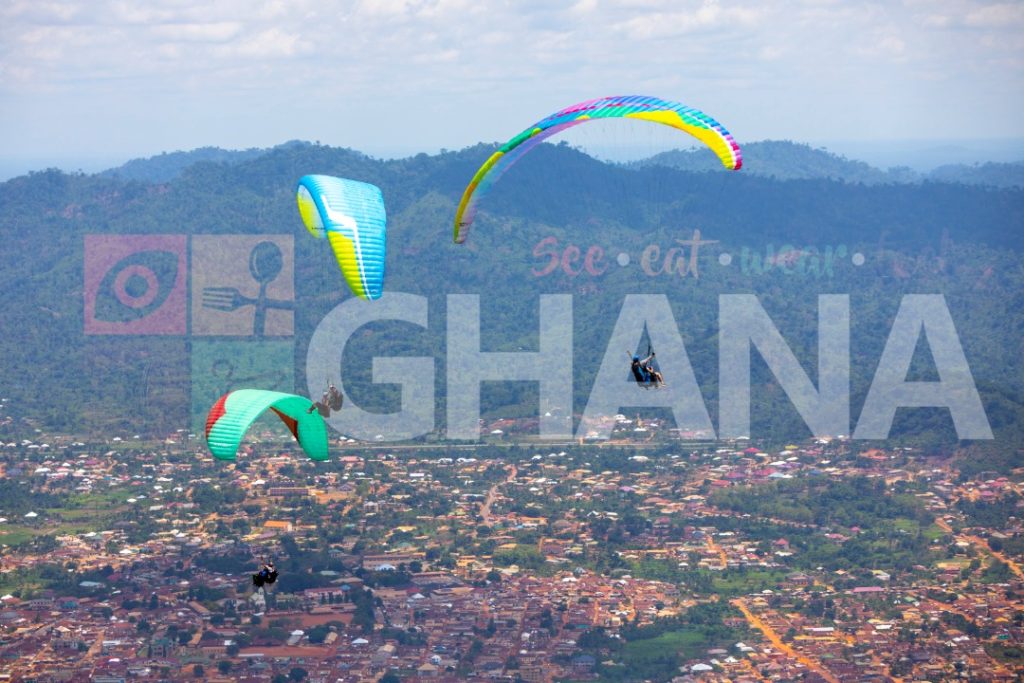 Every Easter Weekend in Ghana, thousands of people travel to Kwahu, Eastern Region to enjoy the annual Paragliding Festival. This year's festival was back in full swing after a 2-year hiatus because of the covid-19 pandemic. It was five days of festivities that kicked off on April 14th and closed April 18th. Everyone was excited about the festival being back and the opportunity to partake in all the activities over the weekend. Travellers came from all over the world including the United States, Europe and other parts of Africa.
The festival was organized under the auspices of the Ministry of Tourism, Arts, and Culture, and the Ghana Tourism Authority in collaboration with various assemblies in Kwahu East, West and South districts. The Kwahu Tradition Authority also played a big role in supporting the event and promoting it to the local community. This festival has become a pillar in promoting domestic tourism in Ghana. Not only do people come from around the world, but Ghanaians also mark their calendars and make the journey to enjoy the activities that happen over the Easter weekend. This year an official Easter Guide was put together to let everyone know what activities were happening each day.
The Paragliding festival has been an exciting way to celebrate Easter Weekend in Ghana since the event was launched in 2005. Over the years, tandem pilots have travelled from around the world to support the event. This year there were a total of 13 pilots who came from the U.S., Peru, Switzerland, Germany and Ghana. Jonathan Quaye is the only Ghanaian paraglider certified as a tandem pilot, meaning he can carry passengers. He's been paragliding since 2006 when he was the passenger of an American pilot and has enjoyed the sport ever since.
Paragliding is reliant on the wind direction and clear skies. Some challenges with wind minimized the number of flights that could take place over the course of the festival. A total of 194 flights were recorded which included 6 solo flights. Outside of the paragliding there were several other events happening to celebrate the Easter weekend including the Kwahu Marathon, a food bazaar, Kwahu Dwaso Street Market, pool parties, music concerts, group tours, camping activities and exhibitions.
The events were well attended and further proved how important the festival is in promoting tourism in Ghana. It's one of the biggest that attracts both international and local communities. It puts Ghana on the map as a place for adventure tourism. During the opening ceremony, CEO of Ghana Tourism, Akwasi Agyeman, said that there are plans to make paragliding a weekly event in the future. This is great news in furthering the cause of domestic tourism while promoting the region as a place to go for adventure.
By: Ivy Prosper