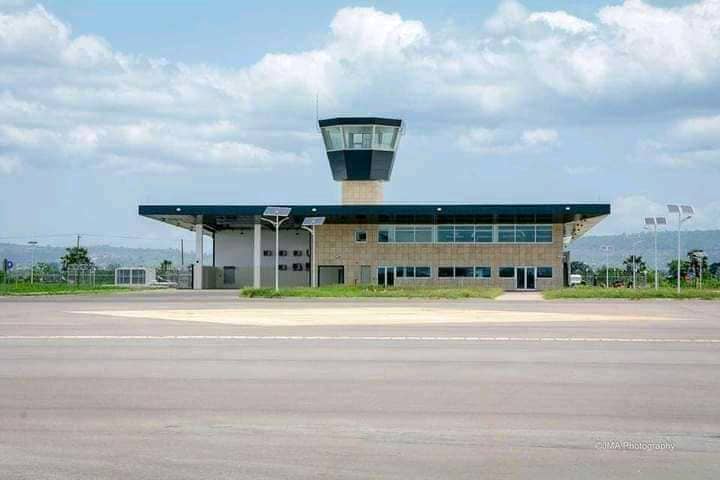 On April 15, 2021, Africa World Airlines (AWA), made its inaugural flight from Kotoka International Airport (KIA) to the newly completed Ho Airport. This was an exciting day for the Volta Region and for Ghana's tourism sector overall. The trip was a test flight and was co-piloted by the Agbogbomefia of the Asogli State, Togbe Afede XI. He is also the Founder and Co-Chairman of Africa World Airlines. He told the press that this was a dream come true.
The flight was boarded by stakeholders in the aviation industry including the Managing Director of the Ghana Airports Company Limited (GACL), Yaw Kwakwa, and Executive Officers of the Ghana Civil Aviation Authority (GCAA). Traditional leaders and dignitaries were also present for this historic occasion including the Volta Regional Minister, Dr. Archibald Yao Letsa. He hopes the new airport will attract commercial flights and help to bring tourists, businesspeople and potential investors to the region.
As Ghana continues to be known as the 'Gateway to Africa', being able to expand the tourist experience through easier travel is a bonus to the tourism sector. During the 'Year of Return', many visitors expressed their desire to see other regions, but the lengthy road trips on limited road networks was often a concern that kept people to familiar places in Greater Accra and the Central Region. As Ghana moves into the 10-year initiative of 'Beyond the Return' (BTR), being able to diversify the tourist experience is important. This is especially important under the 'Experience Ghana' Pillar for BTR. With this new airport, it makes travel to the Volta Region faster and can increase visits to sites like the Tafi Atome Monkey Sanctuary, Tagbo Waterfalls, and Mount Afadjato.
With the addition of the new Ho Airport, stakeholders anticipate that it will encourage more domestic tourism. At present, the airport is still undergoing the necessary preparations to start receiving commercial flights. Passion Air has expressed interest in flying to Ho very soon. Once the airport if fully operational, it will certainly be a positive boost to the local economy.
By: Ivy Prosper